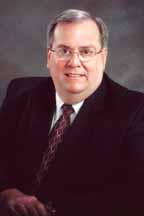 Dr. John M. Hilpert, Delta State University's seventh President, will deliver his annual "State of the University" address, Wednesday, Sept. 7, 2005 at 3 p.m. inside the Delta & Pine Land Theatre of the Bologna Performing Arts Center on campus.
All classes will be cancelled from 3 – 5 p.m. on that day, as so all staff, faculty and students can attend the assembly. Hilpert is expected to address the crowd for 40 minutes, with a reception marking Delta State's 80th academic year anniversary to follow in the lobby of the BPAC. All are encouraged to stay and join in the festivities. Punch and cake will be served.
The event is open to the public and all working media are invited.
For more information, please contact University Relations at (662) 846-4675.