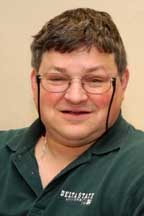 Ross
With classes set to begin Monday, Aug. 22, Delta State University is excited to offer a new course of study this semester. Housed in the College of Business under the Division of Management, Marketing and Business Administration, the Hospitality Services Management program will make its official debut with the commencement of the 2005-2006 academic year.
Coordinated by Dr. Garret A. Ross, assistant professor of Management, the inaugural curriculum was developed, in part, because of the expansive growth in the hospitality industry in Mississippi during the last decade. Inside the Magnolia State, the hospitality industry is the largest employer of persons in the state and is expected to grow three to five percent a year, according to state figures.
To meet that growing need, Delta State's Hospitality Services Management program will consist of courses in hotel, restaurant, law, facilities management and hospitality accounting. To ensure students are prepared for management level positions upon graduation, each program participant will be required to complete a student internship.
A graduate of the University of Massachusetts in Hotel, Restaurant and Travel Administration, Ross has extensive experience in the hospitality industry. He later received his Master's in Restaurant Management from Florida International University and his Ph.D. from Virginia Tech in Hospitality Management. Ross has also attended the professional Management Institute at the Culinary Institute of America in Hyde Park, N.Y.
He has worked extensively in the industry for over 20 years in such places and positions as the clubhouse manger at The Greenwich Country Club in Greenwich, Conn. and Fairfax Country Club in Fairfax, Va.; as well as assistant bar manager at Maguire Air Force Base in Wrightstown, N.J.
For more information regarding the Hospitality Services Management, please contact Ross at (662) 846-4237 or email him at gross@deltastate.edu.