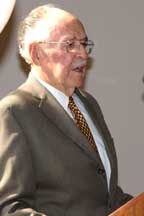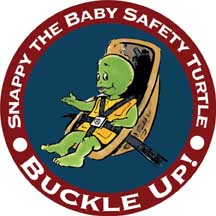 Dr. Jerry W. Robinson, Jr., Distinguished Professor of Rural Sociology Emeritus at Delta State University and the University of Illinois, unveiled his test pilot for an innovative multi-media educational program on traffic safety today inside the Simmons Room of the Hugh Ellis Walker Alumni Foundation House on the DSU campus.
The program uses two animal characters Snappy™, The Adult Traffic Safety Turtle, and Snappy™, The Baby Traffic Safety Turtle. The adult Snappy™ is presented as a police officer, and Snappy™, The Baby Safety Turtle, is presented in a child safety seat that resembles a turtle's shell.
Robinson, the creator, author and director of the Snappy™ program, believes this program has the possibility of becoming a nation-wide effort. Designed for grades three through five, as well as their families, the program will be implemented in Cleveland and Bolivar County during late August, early September.
Armed with four goals, the Snappy™ Traffic Safety program aims to: 1. develop and implement an effective demonstration educational program in Cleveland and Bolivar County with action learning strategies and advertising on the value of safety belts and protective safety seats for children, youth and adults; 2. reduce traffic citations, accidents, injuries, and deaths; 3. help Cleveland become the national pacesetter for traffic safety; and 4. eventually expand Snappy™, The Traffic Safety Turtle program throughout Mississippi, and possibly the nation.
Former Cleveland Mayor Martin King said, "We are delighted that Snappy will be 'born' in Cleveland and we appreciate the local support that is being given to the program. We hope everyone will get behind this program and help it succeed."
The program uses a research-based approach to changing opinions, attitudes, values, and behaviors. The focus is on interactive learning that is fun for children, youths and adults. Family members will become engaged in activities that present and reinforce traffic safety from many approaches. For example, a CD with 20 traffic safety songs and poems will be taught to children and their parents. Many of the tunes were adapted from nursery rhymes that are familiar to the American public.
Every child in the third, fourth or fifth grade in Bolivar County will receive a free copy of the 32-page activity book and the CD. Children, youths, and adults will use activities in the book to complete safety word puzzles, safety word games and safety rule memory games.
Snappy's™ primary message is, "Life is in your hands, Buckle up!" Snappy™, The Baby Traffic Safety Turtle is shown in a wide-range of interactive educational materials with statements such as: "Dad wants me safe and snaps me in my safety seat;" "Mom loves me because she buckles me in;" "I like my safety seat!" and "Good parents buckle up their kids."
The following group of individuals helped Robinson develop the program's materials. Dick Flood, a nationally known artist in Champaign, Ill., created the drawings for the Snappyä characters. Dr. Janice Seitz, formerly at the University of Illinois, helped develop the learning activities in the book. A CD with the songs and poems was produced by Studio 61 in Clarksdale by Eric Fowler, who was responsible for arranging and sequencing material. Sheriff Malcolm McMillian of Hinds County, who is also a well-known actor, is the CD narrator, while Kristian Dambrino, Miss Mississippi 2005, and Jacqueline Nassar are the vocalists. Anita Smith of Mound Bayou is the pianist and Barry Bays of Cleveland is the bass player.
The program has several funding partners including: the Mississippi Office of Highway Safety; the Mayor's Office of the City of Cleveland; Delta State University; Jerry Robinson, Jr.; and the following businesses in Cleveland — Cleveland State Bank; Farm Bureau Insurance; Kossman's, the GM Super Dealer; New York Life Insurance; Merchant and Farmers Bank; and, Planters Bank. Also, several local firms and individuals, Coopwood Communications; The Johnson Newsgroup; Linda Stringfellow and Larry Haynes, helped design and print the educational materials.
"The development of the Snappy program was truly a team effort and its implementation will be a community development project," Robinson offered. "Diverse teams of volunteers from community organizations are being mobilized to help implement the program throughout Cleveland and Bolivar County. Mimi Dossett and Helen Coleman are recruiting volunteers from Junior Auxiliary and Ladies of Elegance. Senator Willie Simmons is recruiting volunteers from 100 Black Men."
Captain Mike McCain, who leads the DARE program in the Cleveland Police Department, stated, "These volunteers and helpers from other civic groups will make it possible for us to introduce the Snappy program to all children in grades three through five in Bolivar County within a two-week period. I'm excited about getting started and anticipate positive outcomes for our communities."
For more information about the Snappy program, please contact Dr. Jerry W. Robinson, Jr. at (662) 846-4359 or email him at jrobins@deltastate.edu.