Delta State's Commercial Aviation welcomes three flight simulators to campus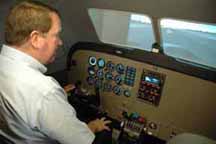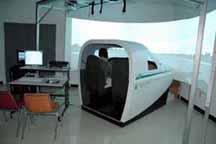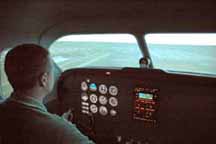 Dr. Tommy Sledge at controls Simulator with wrap-around screen Kevin Scarborough in simulator
The Delta State University Department of Commercial Aviation proudly welcomed three new flight simulators to campus late last week, and according to Department Chair Dr. Tommy Sledge, the innovative simulators have already become an instrumental and integral part of the program.
"We're already using them," he boasts. "It is exciting technology and our department has already seen their advantage. They (the flight simulators) allow us to do things we just couldn't do before, that we weren't capable of before. We can now, and that gives us a lot more flexibility, as a department and as professors."
Manufactured by Frasca International, Delta State now houses three Model 142 Frasca flight simulators, with two in the Gibson-Gunn Aviation Building on campus and one at the DSU airport. The Model 142's handling and performance characteristics are similar to that of a typical light, twin engine general aviation airplane. The simulators also incorporate Frasca's Tru-Flight visual system to provide students with state-of-the-art training devices. For distinctive realism, each of the machines can duplicate a Cessna 172R single engine as well as a multi engine Beechcraft Duchess simply by changing throttle quadrants and instrument templates and making a few simple key strokes on a computer.
"The simulators will be used mainly for instrument training but are so realistic that private pilot students can use them to perfect their landing techniques," Sledge continued. "We know, come fall, they are going to be going full blast."
Heralded as the only university commercial aviation program in the state of Mississippi, the Delta State Department of Commercial Aviation's objective is to prepare students for a variety of opportunities in the aviation industry, the airlines, aircraft manufacturing, airport management, air traffic control and military aviation. Graduates of the program serve as members of flight crews, air traffic control specialists, and executives with supervisory and managerial responsibilities at all levels.
For more information on the Delta State Commercial Aviation program or the new simulators, please contact University Relations at (662) 846-4675