This collection contains yearbooks, school newspapers, awards, commencement programs, and personal items  from various schools within the Greenville area.
Subseries: Yearbooks from Washington County schools, private and public, varying from 1947-2009
Box 1: Private and Parochial Schools- St.Joe, Greenville Christian, Leland Academy, King's Daughters Hospital (nursing school)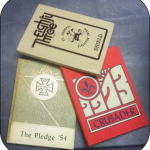 Leland Academy, 1971-1974
Greenville Christian School, 1973
Greenville Christian School was formulated in the minds of concerned Christian parents from Christ Wesleyan Methodist Church. The school opened in late August, 1969, at the the Greenville Hotel with thirty-seven students in grades one through nine. In 1972, the new facility at Highway 1 south was completed, and the fall class began. The school grew rapidly, and increased enrollment necessitated additional classrooms. 
Since 1983, four new classrooms have been added, an athletic/training building has been constructed and a large science complex has been completed. The school is accredited by the Southern Association of Colleges and Schools and the Mississippi Private School Asscociation.
St.  Joseph School "Shield",  1963, 1968, 1983, 1985, 1986
The first organized parish school in Greenville opened in October of 1888. St. Rose of Lima Academy was opened under the leadership of Father P. J. Korstenbrock and was staffed by the Sisters of Mercy. The school that the sisters opened began a rich tradition of excellent education in the Delta area, one that is still strong after 116 years. Within three years, facilities were added to accommodate boarding students from nearby plantations.
In 1948, due to the increasing enrollment and deteriorating condition of the Academy building, work began on a new building. Originally designed to educate 400 students, St. Joseph School was dedicated in May of 1950. As Catholic education flourished in the early 1960's, enrollment continued to rise. As a result of this increase, St. Joseph Catholic Church initiated the construction of Our Lady of Lourdes Elementary School, which opened on East Reed Road in 1964. After kindergarten through sixth grade moved to Lourdes, the building on Golf Street (now known as St. Joseph High School) provided students in grades 7-12 with a quality Catholic education. February 2005 welcomed a new, larger building and location for St. Joseph High School
Kings Daughter's Hospital "the Pledge," 1949 -1951, 1954
The Pledge was the annual yearbook for the nursing school that took place in the King's Daughter's Hospital.
Box 2: Leland High School
"cub," 1955-1957, 1959, 1960-1965
Leland High School It educates approximately 336 students in grades nine through twelve. The school in 1982 graduated its first racially integrated school population from K–12, having implemented desegregation in 1970.
Box 3: Coleman High School
The "Colemanite," 1952-1954, 1956-1959, 1962-1964
 Named for Lizzie W. Coleman, who was principal of the No. 2 Elementary School. Coleman High School was among the first high schools for African-Americans in the Mississippi Delta. The school served as Greenville's main high school for African-Americans until 1970. First located on Nelson Street, the school moved to Cleveland Street in 1922. The present school, designed by architect N. W. Overstreet, was built here in 1952. 
Box 4: Washington School
The "Sabre," 1971, 1972, 1974, 1975, 1978, 1980-1982, 1984, 1986, 1993, 2009
In response to a community need for a local college preparatory school, Washington School was established in the spring of 1969.School began in September, 1970, with a staff of twenty- three faculty members and 323 students. Classes were held in the present elementary building with the east side used for elementary students and the west side for secondary students. Much has changed since the school's inception. Today Washington School has an enrollment of over 900 students with a faculty of over 60 members.
Box 5: Greenville High School part 1"Black and Gold,"1947, 1950-1953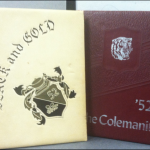 Box 6: Greenville High School part 2
"Black and Gold," 1954, 1955
Class Reunions, 1943, 1947, 1950
"Laurate," 1964-1968
"Vespa," 1956-1959, 1960, 1962
Box 7: Greenville High School part 3
"Vespa," 1963, 1964, 1966-1970, 1972-1974, 1978
Greenville established its first public school in 1866, the year the city was rebuilt after its destruction during the Civil War. Since a separate municipal school district was created in 1884, it has been served by only fourteen superintendents, all recognized for their educational leadership and innovation. In Mississippi, the Greenville system instituted the first science labs in 1888, the first schools system-furnished textbooks in 1890, the first physical education department in 1899, and the first public school kindergarten and the first art department in 1905. In 1992, Greenville High School conducted its 100th graduation, the most of any public school in the state.
 Currently under the leadership of Superintendent Leeson M. Taylor II,  Ed.D., the Greenville Public School District enrolls approximately 5,800 students and ranks second among municipal school districts in the state in pupil population. The district operates 7 neighborhood elementary schools (K-5), two middle schools (6-8), and one high school located on two campus sites (9-12), a countywide vocational technical complex, and an alternative school. Greenville was one of the earliest districts to be accredited by the Southern Association of Colleges and Schools (SACS). The entire district continues to be fully accredited by SACS. All schools in the district are accredited by the Mississippi State Department of Education.
Subseries: Greenville Schools memorabilia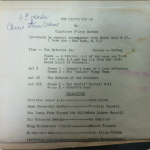 Box 1:
Sweatshirt- E.E. Bass
Banners:2 Greenville hornets
Jackson- old capital museum
Biloxi
Vicksburg
University of Mississippi
Gulfport
Ringling Bros. and Barnum 7 Bailey
Livingston Zoo- Jackson, Miss
Ole Miss
GHS Hornets
Megaphone of St. Joe Fighting Irish and Greenville Hornets
Photo of Greenville High School Band 1929
Class photo
CD:Baby Doll
Intruder in the Dust
Lightening in a Bottle
Mississippi Triangle
Photo of a girl
Miss Carrie Stern's history/current events class- WWI era
Class photo of Greenville High School 1946
1935 Central School City Champions- Football
Legacy of Israel book
Balzacts Shortest Stories book
Korea and her Neighbor's book
1884-1932, A History of the Greenville, Mississippi Public Schools by William B. Thompson
The Pica Newspaper, May 14, 1948
The Pica Newspaper, 1921-1922
Box 2:
Folder:
Class Record of Methodist Church, 6th grade girls
Weston High Literary Journal, Windsong (1995, 1999)
Carrie Stern Elementary School Photo Album, 1966-67 (everyone identified)
Sign In book for Carrie Stern School 6th grade production of the Silver thread, 1944
Floriana Donovan's teacher's class record, September 1952
Bass Letterman Jacket Patch
GHS Patch
1949 Seniors of GHS parties- news clippings
Senior Class 1959 parties invitations for Peggy Keady
Receipt for tuition for St. Joseph's school, 1950-1951
Aerial shot of school
Invite to St. Joe's prom, 1959
Invite to Playhouse, 1959
GHS Senior Play Program
2  "on the stage" programs
Party favor glasses
Peggy Keady's First Presbyterian Church Card
Peggy Keady's GHS Senior Privilege Card
PTA invites honoring Miss Floriana Donovan
GHS senior class 1940 photo
Signed photo of Charlie Conerly
Scanned photo of Central School 6th grade
Scanned photo of Cafeteria worker
Scanned photo of a garden party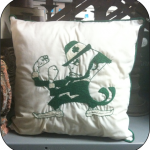 Scan of GHS 1935 State Championship Track Team
Photo of 10th grade, ?
Zora Anderson's 6th grade school register, 1931
"Change" letter read at 1938 Class Reunion
Walk with me
A prayer for older people
The Leland Times-Hall of Fame, 1969
GHS Football Schedule 1937, 1966
St. Joe vs. Riverside Football Program
GHS presents The Tonight Show, 1964
GHS presents we interrupt this program, 1964
GHS Commencement, 1969
Open house- H.W. Solomon Junior High School, 1964
Zora Brown's Diplomas
Cards with E.E. Bass Jr. High School illustrated
Anna Lee Decell's school day autobiography book
Two school day journals of time at MSWC from Greenville women.
Box 3: Schools
Folder:
Fulwiler Elementary School photo album
Ms. Florianna Donovan' s class record book
Washington School
Reflections vo. 1 n. 1
Reflections, 1994
Washington Generals
Greenville Military School
Scan of the Pep Bomb, Thanksgiving Issue
Graduation invitation of the Class of 1919
Scan of a photo of the Greenville Military Academy  1918 Officers
Saint Joseph High School
5 Photos of the Building
Graduation Invitation for the Class of 1962
The Muses, May 1970
Scan of St. Rose Lima Graduation
Souvenir at Close of School (St. Rose Lima)
Greenville Academy
Photograph and scans of Faculty and Students of Greenville Academy, 1913-14
E.E. Bass
Photo of Herman Solomon, principal
Photo of E.E. Bass
Piano and Ensemble Recital
E.E. Bass School Newspaper (No Name Yet)
English Department- The Cotton Boll
Article on Eli Bass: Educator
Merit Award
Scan of band
Scanned note from Willie Morris
Parakeet, 11/6/1963
Coleman High School
Photo of the school being built
Article on the naming of the school
Article on the naming of Melissa Manning Elementary
Greenville Schools
Graduation Program from Chatham High School, 1934
Scan of Leland High School Band, 1930
Two photos of Ms. Boyd's Class
Two photos of Starling School
Photo of Sacred Heart School
Photo of Central School
2 Photos of Carrie Stern
GHS- Pica
Various issues of Pics from the 1930s, 40s, and 50s
GHS Commencement Programs, 1893-94, 1936, 1925, 1955, 1952, 1928
GHS Reunion documents
Class of 1936 News
Class of 1933 Schedule
Class of 1953 List
Class of 1957 Booklet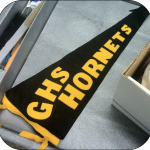 Greenville High School
Scanned photos from 1920s and 30s
Sketch of the school
Various Photographs taken from the yearbook
1961 Football Banquet Ticket
Ad about the Greenville High School Band
4 Clippings of the 1938 Graduates
Large Scan of the Band
Three Scans of groups and Society pages from the Pica
GHS- Publications and Productions
The Silver Thread Program
Delta Camelot Times, September 2001
Laureate 1970
Laureate 1971
Delta Camelot Times, September 2009
Laureate 1967
Laureate 1965
Laureate 1972
The High School Carol, 1908
Headed For Eden Program
High School Band Benefit Uniform Fund Program
The High School Carol, 1909
Scanned list of School Publications
Thresholds, 1936 & 1937
GHS Sports
Photo of the football team
1943 Big Eight Conference Championship Foot Ball team
1965 Homecoming Program
1968 Greenville Invitational Baseball Tournament
Jackson vs. Greenville Program
Natchez vs. Greenville Program
1937 Football Program
1942 Hornet Team
1933 Hornet Football Team
Football Program
This page is just a small component of sub-series IV (Material Collections) of the McCormick collection. To view the collection in its entirety please visit Delta State University Archives and Museum in Cleveland, Mississippi or for more information please contact the Delta State Archives at 662.846.4780