This collection consists of multiple boxes that all contain memorabilia from various Greenville Businesses. Touch real life history!
Box: Little Things
Folder:
1.      Bank of Leland First Aid Kit
First National Bank Thermostat
First National Bank deposit slip
Commercial National Bank bag
Sunburst Bank bag
Greenville's Independent Bank bag
The First National Bank bag
McCormick Book Inn money bag
The Citizen's Bank Wallet
Commercial National Bank matches (3)
First National Bank matches
Greenville Bank & Trust Co. matches
The Bank of Leland matches
Greenville's only independent bank matches
Greenville Bank & Trust Co. Ruler
Greenville Bank Flower Key Chain
Greenville Bank Money Clip
2 Round Greenville Bank Keychain
Greenville Bank Paper Clip
First National Bank pencil
Union Planters Bank pencil
Sunburst Bank Magnify (2)
Greenville Bank and Trust Co. pen
Greenville Bank & Trust Co. Ruler
The First National Bank tag
Sunburst Bank pencil
Planters Bank Keychain
First National Bank bottle opener
Sunburst Bank Magnifier pen
Commercial National Bank Keychain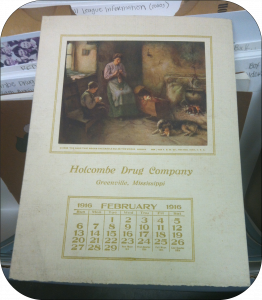 Sunburst Bank Keychain
Sunburst Bank Letter opener (2)
Commercial National Bank money Clip
Trustmark National Bank money clip
Deposit Guaranty National Bank Ruler
Greenville Bank Ruler
Bank of Leland drink top
Sunburst Bank pen (2)
Greenville Bank pen
Sunburst pencil
2.      E.M. Gray Pure Oil Products memo book
Henderson & Baird Hardware Co. since 1889 tag
Metal button from BB King Museum
Tenenbaum's of Greenville nail file
Eutis Dees and Outzen nail file
M.J. Keady nail file
Poplar Place business card
Hunt & Robertshaw agents' card
Dial your Mileage from Paul's Chevron Station
Henry Crosby Company calendar (2)
Schlom's Greenville Jewelers bag
Miers & Pratt Insurance Agency
Greenville Optical Dispensary eyeglass case (2)
Farnsworth Jewelry bag
The Office Supply Company Ruler
Greenville Paint & Glass Ruler
Family Medical Center ruler
Greenville Compress pencils (4)
International Vegetable Oil Mill pencils (2)
Henderson and Baird Hardware mechanical pencils (2)
7-11 Minute Market pencil
Refuge Cotton Oil pencils (2)
Greenville Lumber Co. Pencil
Harry Bynum Ford Pencil
Woolworth's pencil
Washington School Generals pencil
MS Bar High School Mock Trial Pencil
Greenville Compress Pencil
Fountain's Green Growcery pen
Rebel Gas Pen
Ful-o-pep pen
J.T. Jackson's Gulf pen
The Book Store pen
Virden Lumber & Steel pen
Greenville Bank & Trust pen
Greenville Garden Center pen
Fulton Co. pen
Federated Insurance Co. pen
Henderson & Baird pen
Cities Service pen
Brent Marine Supply Co. pen
Nathan Goldstein's Superior Cage Eggs pen
Baird & co. pen
Mohasco Independent pen
How Joy pen
Henry's cleaner's pen
South Main Gulf pen
Greenville Aero Services pen
Edward Jones pen
Guy Hall Motors ruler
Mack Mooney Business Machines ruler
Washington Co. Savings ruler
Who gave this to me? Mechanical pencil
Book Store calculator
Servpro Letter opener
Miss Power & Light Thermometer
Kretschmar Reality pen
Ice pick- Crystal
Gamble Bros pen
LE matchbook
Nathan Goldstein II pen
England Motor Co. Key holder
Cotton Club Keychain (2)
Greenville-Delta Sams 1992 pin
Las Vegas Casino token
Greenway Gulf Station knife
Henderson & Baird Letter opener
Asbury Paint & Glass Keychain with Keys
Fieldings Drive IN Keychain
Schlom's Jewel Box
Port City Trucking keychain
Eustis Dees & Outzen keychain (4)
Greenville Oil Works Knife
Deer Creek Elevator ice pick
Norris Motors Letter opener
Fountain Green Growcery Keychain
H. Scott cork screw
Welcome Wagon keychain
England keychain
Harry Vickery sewing kit
Leland Wholesale keychain
Delta Implement Keychain
New Dixie Fasteners Keychain
Delta Pine & Land Co. keychain
Frank England screwdriver (2)
Wholesale cash Grocery maker (2)
Terracina Motor Co. Keychain
Vickery Keychain
Exxon Travel Club Token
Henderson & Baird Hardware pen
Washington County Community Partnership keychain
Delta Implement Co. keychain (2)
Leland Wholesale Building Materials keychain (2)
Doe's Eat Place Keychain (2)
Photo Supply Lighter
Sears Keychain
Vickery Keychain
Meadors Chevrolet Co. Keychain
National Funeral Home keychain
Valley Chemical Co. keychain
Raney's Auto keychain
Greenville Bank Keychain
Downtowner Motor Inn spoon
Greenville pin
Zippo Lighter
Shipley Do Not Shop Keychain
Computer Concepts Inc screwdriver
England Motor Co. clip
Welcome Wagon Hostess pin
Gulf Super Service ice scraper
Henderson & Baird price tag
2 sales tax token
The Book Store wooden nickel
Ceramic tube Carsons Drugs
3.      Matches:
The Peabody (3)
Delta Blues Festival '79
Rice Council (2)
Mebane packaging Corp
P.H. Davis tailors
Greenville Country Club (4)
Cellar Door
The Village Party Store (9)
Greenville Texaco Station (2)
Park Inn Grill & Court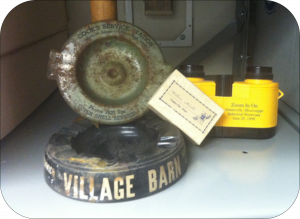 Chic Shop
Mayflower Restaurant
Goyer Supply Co
Downtown Hotel-Motel
Barry's Styling Center (3)
Cotton Club Casino
Las Vegas Casino
Headless Horseman
Greenville Yacht Club
Peerless Tires
Louis Garrett Co.
The Cow Pen
Fleming's Restaurant
Miller One Limited
Blue & White Service Station
Wallace Arnold Jewelers
Hoy Joy
Hotel Greenville (2)
Town House
Lory Motor Court
Azar Motel & Restaurant
Salad Bowl Restaurant
4.     Metal Stamps:
Delta Medical Center
Bev-Mar Fabric Center
McMillan Supply Company
Virden Homes
Downtowner Motor Inns
U.S. Axminster
The Delta Route
Mainstream Music
Sherman's
5.    8 Barnet pins
Card- Willard L. Mcllwain State Senator
American Legion Department Convention, July 11-13 1975
Frank Self, mayor pin
Clarke Reed- Vice President
Ole Miss pin
I Have Registered pin
Harvey Tackett- Sheriff nail file
James H. Beckum, Sr. Chancery Clerk, nail file
6.      Trinket dish
Miss Magnolia State Button (2)
American Red Cross pin (3)
St. Josephs Bracelet
Mayor Burnley photo Keychain
Miss State College ceramic top
Greenville Miss Vision pin
Green Greenville Miss Keychain
Mississippi Pin (3)
Greenville Mississippi pin (2)
Greenville High School charm
Kings Daughters pin
Visitgreenville.org guitar pin
7.     Keychain (buoy) from the Marina with Texaco ad
Pencil from Leland: Birthplace of the Frog
Pen: Washington Co. Convention & Visitors Bureau
Casino Wristwatch
1956 Scout patch
Bookmark- House on First Street by Julia Reed
Ticket book to MS State Bar Assn, 1936
Token from Ayager for bread loaf
R.G. Haxton parking token
2 5-cent parking tokens
2 dog (animal) tags
St. Joseph High dedication medallion
Las Vegas gaming token
Planters Bank token
New Orleans Top of the Art token
Buddie Newman token
Picayune MS token
Biloxi Mardi Gras token
2 Trent Lott token
2 Bill Allain tokens
3 Anheauser-Busch/ Clydesdales tokens
Ramblin Bo-Weevils pin
I Heart MS Delta pin
Annie-Delta Center Stage pin
American Legion World Series pin, 1979
4 pins- Daughter of a Southern Mother
Box: Case 1
A Marine Gears INC. Belt Buckle
First National Bank in Greenville, MS Fingernail clipper
England Motor Company Ford/Honda, Greenville, MS Magnet
A Small Wooden Shoe (Clog), Greenville, MS on the side
Small wooden suitcase- I am Mailing my baggage, Greenville, MS on the back
Flowers Transportation INC. Greenville, MS Paperweight
NEIMS and BLUM Greenville, MS Jewelry gift box
The Smart Shop Greenville, MS jewelry gift box
Black and Gold Saucer/Security
A Bronze Plate- MISSISSIPPI SIDEWHEELER
Elks Home, Greenville, MS: saucer for H.A. Hoffman
"This is Stolen from the Marina Home of Food" Lake Ferguson, Greenville, MS Ashtray
Ashtray with a boat inside
Fly Southern 6th year of Progress shot glass
Glass Plaque: Gulf Oil Corporation
Black, white , gold glass ashtray: Mississippi Valley Investment Company
Two Small off-white saucers
A Silver Uncle Ben's INC 19 years by the River and still Rising plate
A Glass Black and Gold Thermostat
A Trustmark National Bank Desk Clock
Machinists Welders Steel Fabricators Ashtray
The Heritage Cup Trustmark Mug
Box 3:
A Lion Shaped paper weight
A small red plastic owl shaped Washington Federal Savings Bank
A Small King's Daughters Hospital Desk Calendar
MN MISS KAED Flowers Transportation small gold plated wooden plaque
Brent Towing Co. INC Pen holder
Deposit Guaranty National Bank Desk Thermostat
Port City Trucking, INC Wooden Electronic device
Ol Trendar's Egg Farm egg carton
Gold shovel on wooden plaque
First National Bank small marble paperweight
The First National Bank Paper Holders for the office desk
The First National Bank of Greenville small metal bank
The First National Bank deposit Bag
The First National Bank Uncle Sam bank
A framed Dr. Dorothy A. Brant Thermostat
A pair of beige heels
Greenville Bank and Trust Company Barrel bank
The First Greenville Bank Deposit Bag
Commercial National Bank 1910 model Stanley Cat bank
The Lake Washington and Deer Creek Railroad and Banking Company check 1837
Box 4:
2 pieces of silverware from Hotel Greenville
5 Delta Club gaming chips
2 pictures of a shop
A blue and silver ribbon- the Cotton Pickers B.P.O Elks No. 148, 1903
Temple Theatre Movie Schedule in Leland Ms
Punch out card for Joy Drive in Theatre and Ann Drive In Theatre
Pink Velvet rose hat from Tenenfaum's Greenville
A colorful tambourine
A planets in orbit bank from Commercial National Bank, Greenville, ms
Five Years' Progress in Northwestern MS Delta council, Stoneville, MS 1957-1962
A Brief History of Greenville
A Short story of Greenville
Greenville, Ms Telephone Directory April 1955
Greenville, MS Telephone Directory March 1956
Joint City of Greenville Washington County March 1961
The Delta File/ Manufactured for Commercial Stationers, Greenville, Miss
A Ruler/ Riverside Poster Advertising Co. Greenville, MS
Box 5:
A wooden box from Brent Marine Supply Co., INC with 3 match books and 10 coffee straws inside
Small Black Box with a gold razor inside
E.V. Donovan Coffee Mug
A white Plate trimmed in gold- Parent/teachers Association 1927-28 Court School
An Air pot- Ruth Brent 1943 & 1966
Box: Old Greenville Business Memorabilia
Sport glasses- industrial showcase, June 25, 1999
Government ration book envelope- R. L. Lake Agency
"Yea Hornets!!" pin
Greenville, Miss magnet
Greenville High Black and Gold concert ticket
Greenville 5 cent parking token
2 pks of playing cards
Spool- wooden
Tapes of Mississippi bird songs
State of Mississippi Cookie cutter
Greenville Compress Co. pencil
St. Joseph High school dedication glass
Mississippi Association of supervisors crock
Greenville Paint and Glass wooden ruler
2 Wallace Arnold Jeweler box
Captain D's Seafood huggie
Picture of Sanitarium on Washington Ave
South Delta Motors, Inc notepad in plastic cover
Jake Stein award to England Motor Co. 1996
Brass cover
Calendar and Thermometer- Blacker Lumber 1941
Box of Joy Drive IN Theatre tickets
Ash tray Cook's Service Station
Ash Tray Greenwich Village Barn
Red Glass ink jar with ink
Photo of Mary Wasson, 1920
Donation acknowledgement for "horsetail" for carousel horse
William Alexander Percy quote
Hodding Carter quote
Metal Mack Mooney Business Machines Ruler
31 brochure- "Hodding Carter- Vice President"
2 photos of Burt Taggart Orchestra
2 Photo collage of bold buildings
This page is just a small component of sub-series IV (Material Collections) of the McCormick collection. To view the collection in its entirety please visit Delta State University Archives and Museum in Cleveland, Mississippi or for more information please contact the Delta State Archives at 662.846.4780