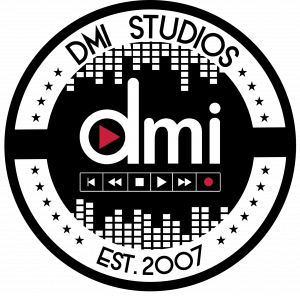 The DMI recording studios, constructed inside of what was the old Whitfield Gymnasium on Delta State's campus, are the centerpiece of the DMI Entertainment Industry Studies program.  In addition to four recording spaces, a kitchen/lounge on the first floor of the DMI studios provides a comfortable meeting space and private greenroom.
Studio A, featuring a 48-channel SSL Duality Delta console, is a large format studio able to accommodate orchestras, concert bands, choirs, and wind ensembles and includes pairs of Genelec 1238A, Barefoot MicroMain27, and Yamaha NS10 monitors for referencing. The design for the studios was created by veteran engineer/producer Norbert Putnam who remarked, "When I first entered the old Whitfield Gym, I was struck by the amazing reverb being generated by the hard reflective surfaces. It reminded me of Abbey Road's Studio 1 in London." Putnam continues, "The symphonic room at DMI may well be the largest studio of this type in the academic world."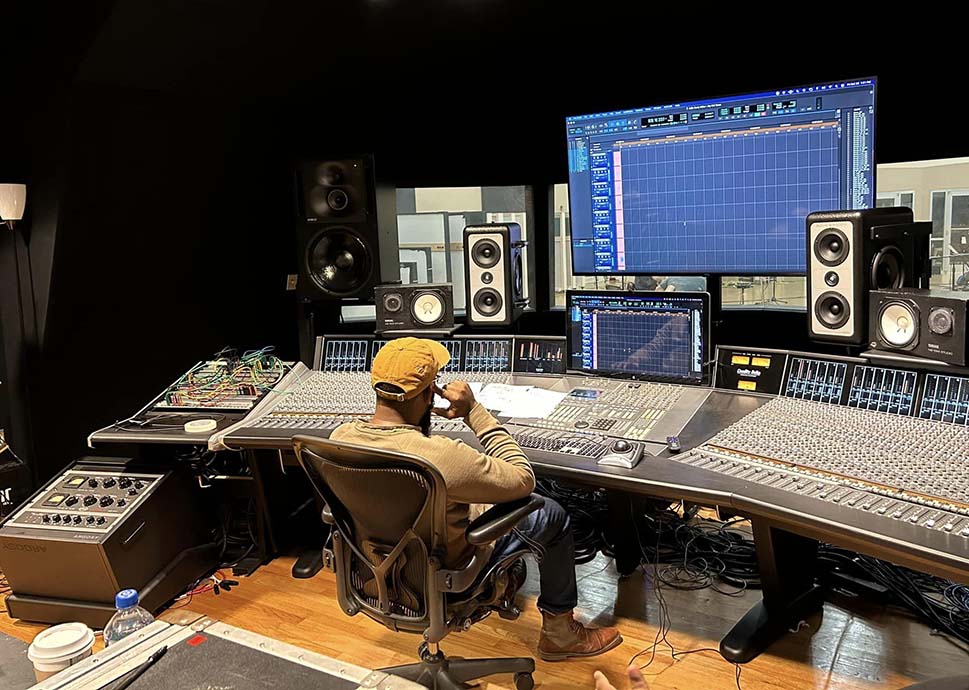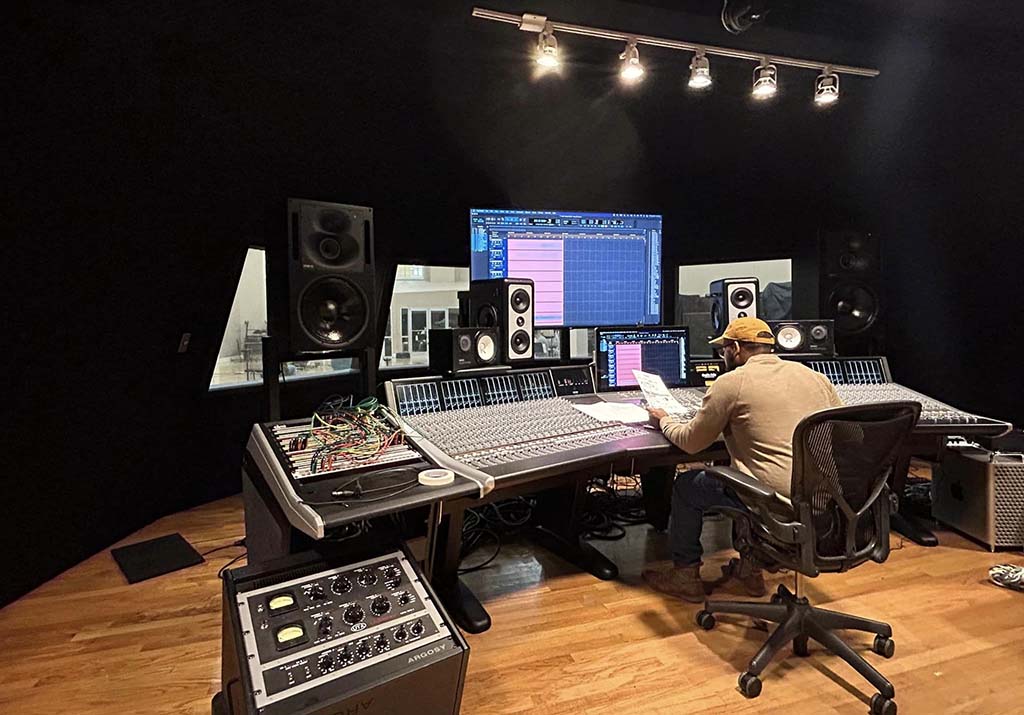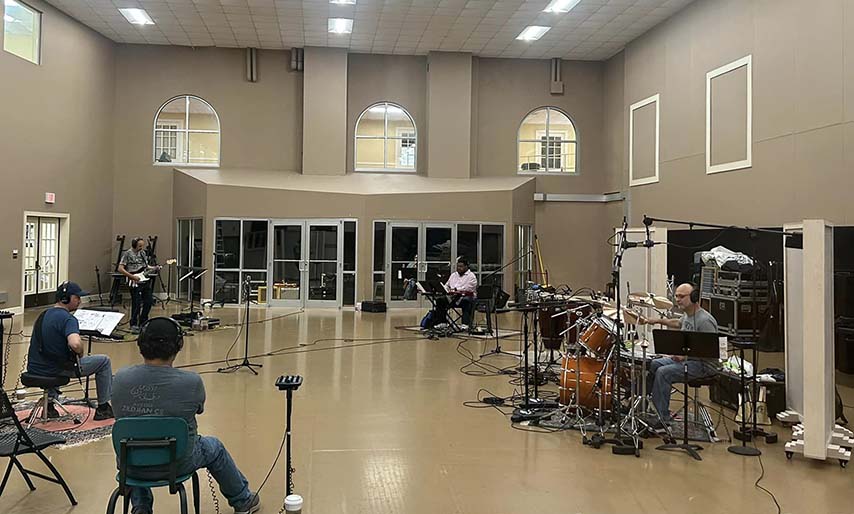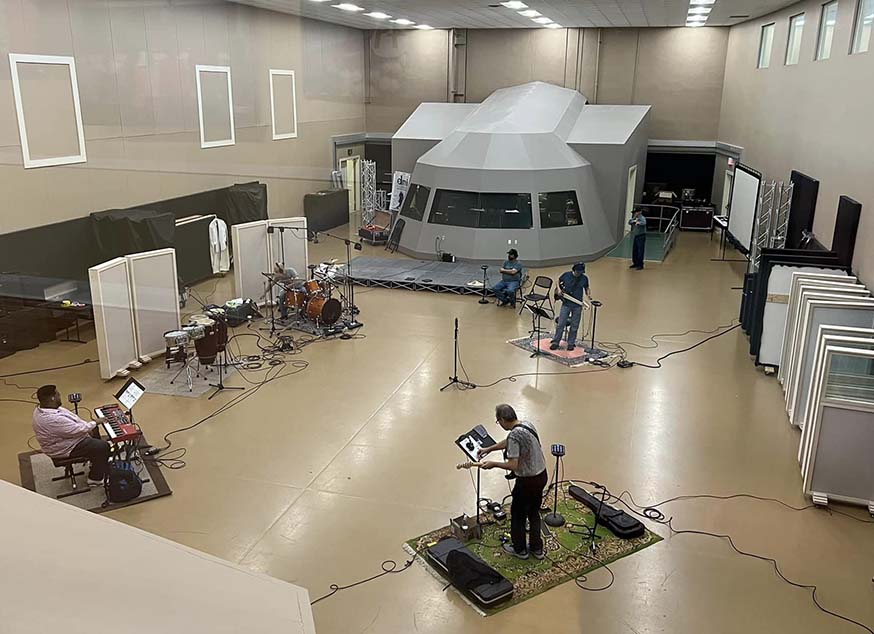 Tracking Room
Width: 50 feet
Length: 83 feet 4 inches
Height: 25 feet
Control Room
Width: 24 feet
Length: 27 feet
Height: 9 feet 4 inches
ISO Booths
Width: 15 feet 2 inches
Length: 7 feet 7 inches
Height: 8 feet
View Studio Renderings

DMI Studio B can comfortably accommodate multiple musicians and provides the perfect tracking room for various types of ensembles. The control room features 24 channels of Neve 1073 preamps, Pro Tools Ultimate HDX, a 40-channel AVID S6 M40 modular control surface, ATC SCM150ASL, CLA10, and ADAM Audio monitors.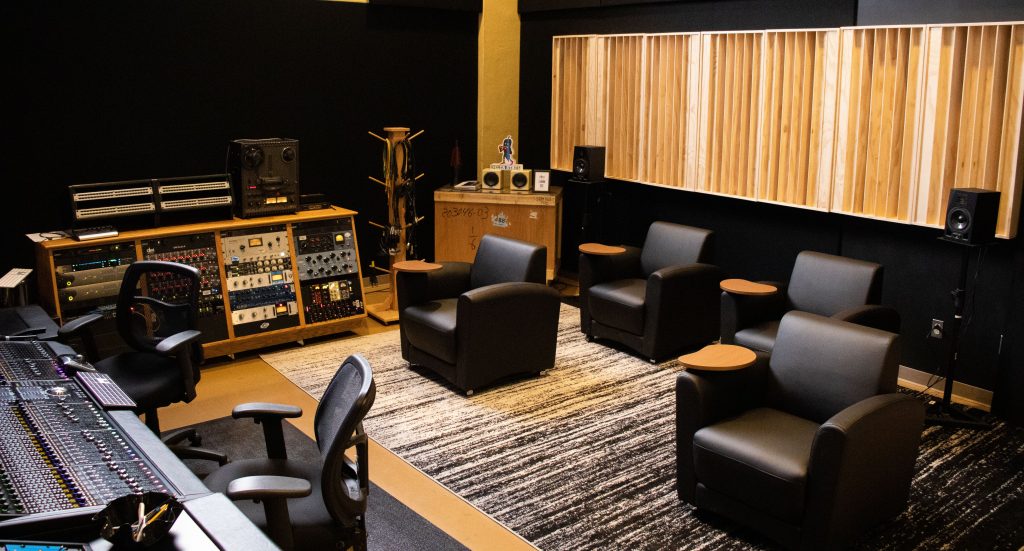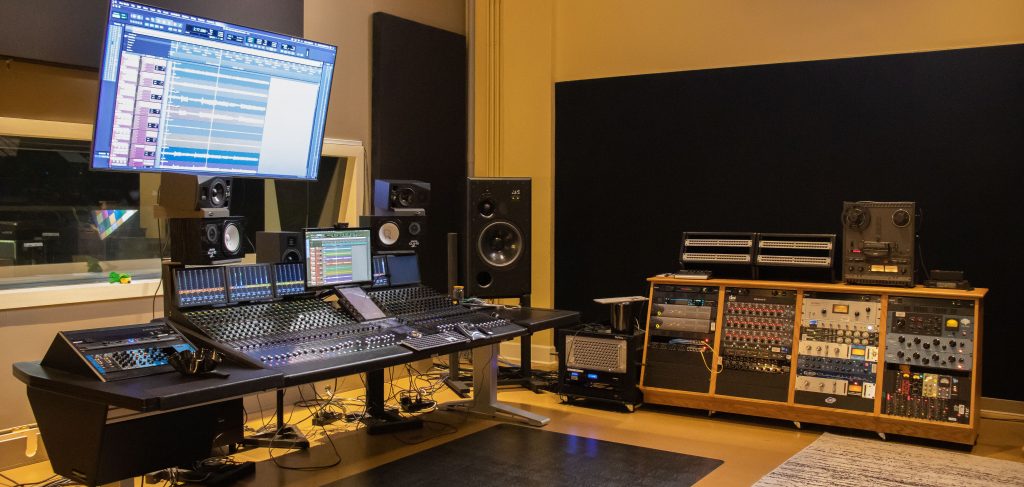 Tracking Room
Width: 22 feet 6 Inches
Length: 31 feet
Height: 16 feet
Control Room
Width: 22 feet 6 Inches
Length: 22 feet
Height: 16 feet
ISO Booths
Width: 11 feet 3 inches
Length: 13 feet 10 inches
Height: 16 feet
DMI Studio C doubles as a project studio and classroom. The control room has a Pro Tools Ultimate system with AVID and Focusrite interfaces, Slate Raven MTi2 multi-touch production console, Avantone CLA10 monitors, Hear Technologies monitoring system, on an Argosy Halo desk. The studio is ideal for mixing, tracking bands, and recording small ensembles and is often used for student projects.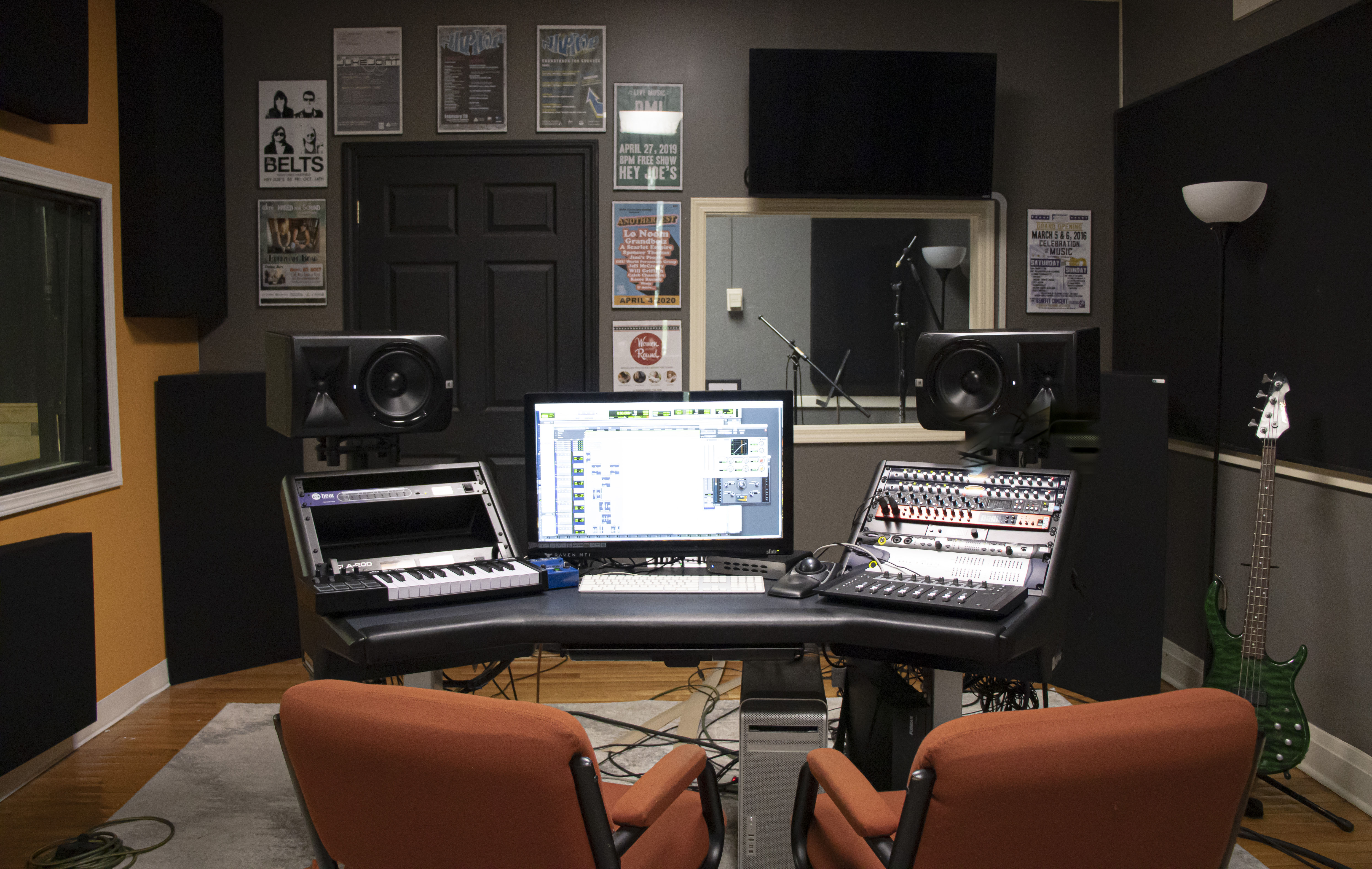 Tracking Room
Width: 24 feet 7 inches
Length: 28 feet
Height: 9 feet 2 inches
Control Room
Width: 13 feet
Length: 18 feet 7 inches
Height: 9 feet 2 inches
ISO Booth

Studio D Dolby Atmos Studio/Mixing & Mastering Lab
The Dolby Atmos Studio and Mixing/Mastering Lab features the Genelec 7.1.4 immersive audio studio monitor system, Antelope Audio Galaxy 64 Synergy Core interface, JL Cooper AXOS surround controller, and Avid Pro Tools software.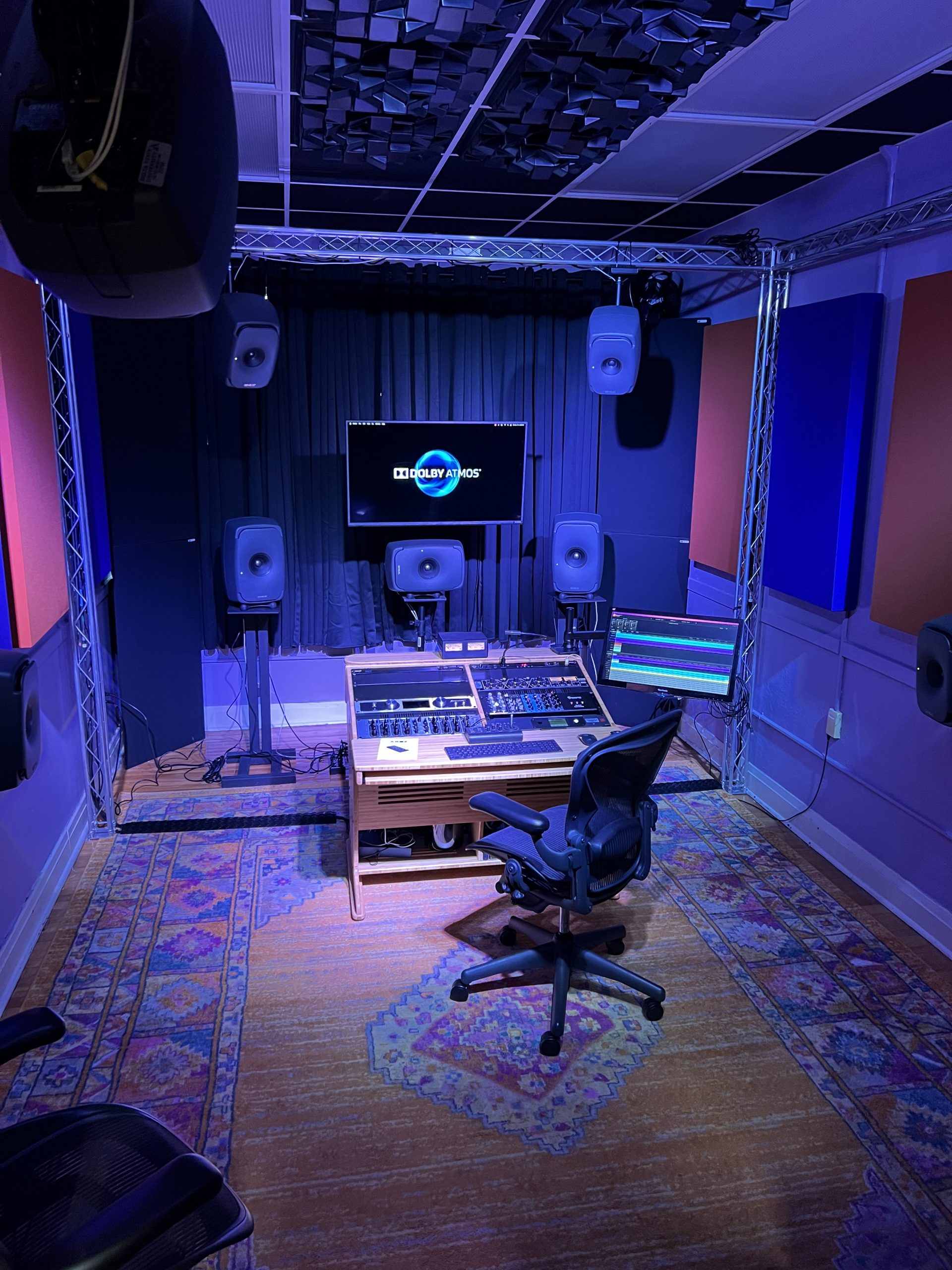 Room
Width: 10 feet 6 inches
Length: 19 feet 4 inches
Height: 9 feet 2 inches
The DMI Mobile Recording Studio is housed within a 26′ Bluebird bus and features audio and video recording capabilities. The recording studio is capable of recording up to 64 audio channels via Dante for Pro Tools recording. The live stream/video station can capture 4k video and up to 32 channels of audio.
Avid MTRX Studio interface
Allen & Heath SQ7 mixing console for live streaming audio
Neumann KH310 Studio Monitors
Roland VR50-HD MKII Multi-Format AV Mixer
Rupert Neve Designs Portico 5024 4-Channel Microphone Preamp
ADK  Z-67
ADK Berlin 47-T-FET
ADK Odin (matched pair)
ADK Zigma HA-FX Cardioid (2)
ADK Zigma HA-FX Hyper-cardioid
AEA Nuvo N8 Ribbon
AEA R88mk2 w/TRP preamp
AKG C4000 B
AKG C414 XLS (2)
AKG C414 XLII (2)
AKG C418
AKG C451 B (2)
AKG D112 MKII
AKG D12 VR
Aston Stealth
Audio Technica AT4047 (2)
Audio-Technica AT4041 (2)
Audix Fusion drum package
Audix OM2 (4)
Audix OM3
Audix TM1 (3)
Avantone CV-12
Beyerdynamic CK704
Beyerdynamic CK706
Beyerdynamic M160
CAD M179
Cascade Fathead II (2)
Coles 4038 (2)
DPA 2011c
DPA Core 4099 (3)
DPA ST4011A (2)
Earthworks DM20
Electro-Voice 635A
Electro-Voice RE20 (2)
Golden Age Project GA-800G
Granelli Audio Labs G5790 (2)
Heil Sound PR 48
Microtech Gefell M930 (2)
Neumann KM183 (2)
Neumann KM184 (matched pair)
Neumann TLM 102
Neumann TLM 170 (2)
Neumann U47 fet
Neumann U67
Neumann U87 (2)
Oktava MK-012-01
Placid Audio Copperphone
Rode NT4
Rode NTG (4)
Royer R-121 (2)
Schoeps CMC5-U (2)
Sennheiser e604 (4)
Sennheiser e609
Sennheiser e906 (2)
Sennheiser MD 421 (6)
Sennheiser MD 441
Sennheiser MKH
Shure 55SH
Shure Beta 181
Shure Beta 56A
Shure Beta 52 (2)
Shure Beta 57A
Shure Beta 91 (2)
Shure KSM137
Shure KSM32 (2)
Shure KSM44 (2)
Shure KSM8
Shure SM7 (2)
Shure SM7B (2)
Shure SM27 (4)
Shure SM56 (2)
Shure SM57 (11)
Shure SM58 (11)
Shure SM81 (2)
Sony ECM-50PS
Studio Projects TB1
Telefunken ELA M 251
Telefunken M80
Console:
Solid State Logic Duality Delta 48 channel
Monitors:
Barefoot Sound MicroMain 27
Genelec 1238A
Yamaha NS10m
Outboard:
Antelope Audio Galaxy Synergy Core 64 Audio Interface
AudioScape 76F Limiting Amplifier
AudioScape Opto Compressor
Avalon VT-737sp Tube Channel Strip
Avid HDX Core (2)
Black Lion Audio Bluey FET Limiting Amplifier
Bricasti Design System 1 M7 Reverb with remote
Chandler Limited RS124 Compressor
Chandler Limited TG1 Limiter (2)
Chandler Limited TG12413 Zener Limiter
Chandler Limited TG2 500 Series Preamp (10)
Drawmer Spectral Compressor DL251
Empirical Labs EL8-X Distressor (2)
Golden Age Project Comp-3A (2)
Otari MX 5050 4 track tape deck
Q2 Audio Compex F760X-RS Stereo Compressor
Retro Instruments Sta-Level Compressor
UnderTone Audio UnFairchild 670 M II
Universal Audio 1176LN
Weight Tank WT-72 Microphone/Line Tube Preamp
Console:
Monitors:
ADAM Audio A5X 5.1 Surround
ATC SCM150ASL
Avantone CLA-10
Outboard:
Aphex 323A Compellor Aural Exciter
Aphex 622 Expander Gate
Aphex 661 Expressor (2)
Aphex Compellor
API 3124 preamp (4 ch)
Avalon U5 Active DI and Preamp
AudioScape 76F Limiting Amplifier
AudioScape G Stereo Buss Compressor
Avid HD I/O (2)
Avid HDX Core (2)
Avid MTRX Studio
Black Lion Audio Bluey FET Limiting Amplifier
Cloudlifter CL-4 Mic Activator
DBX 900 Series, Compressor (3), De-Esser (3), Noise Gate (3)
Drawmer Dual Gate DS201
Empirical Labs EL8-S Distressor (2)
Empirical Labs EL8X Distressor
Focusrite ISA 428 MkII
Hardy M1 preamp (4 ch)
Millennia HV-3D preamp (8 ch)
Neve 1073OPX preamp (24 ch)
Orban 424A Gated Stereo Compressor
Otari MX 5050 2 track tape deck
Rupert Neve Designs Portico II
Teletronix LA-2A
Tree Audio Valve Channel Strip
Tube-Tech LCA 2B Compressor
Valley People 610 Compressor
Warm Audio EQP-WA Tube EQ (2)
Console:
Slate Raven MTi

Multi-Touch Production Console
Monitors:
Outboard:
Avid HD Omni
Avid Pre (2)
Focusrite Clarett 8 Pre
ReVox 2 track tape deck
Dolby Atmos Production Suite
Monitors:
Genelec 8351B (3)
Genelec 8341A (8)
Genelec 7360A subwoofer
Outboard:
Antelope Audio Galaxy 64 Synergy Core interface
Bettermaker Mastering Limiter
Drawmer 1973 Multiband FET Stereo Compressor
Elysia Xpressor 500 Series Stereo Compressor
Maag Audio EQ2 500 Series 2-band EQ (2)
Manley Massive Passive EQ
Pultec EQP-500X 500 Series Program EQ (2)
TK Audio BC501-GR 500 Series Stereo Bus Compressor
API 512c (4)
BAE 73MPL (6)
Chandler Limited Little Devil
Daking Mic Pre 500 (2)
DBX 510 Subharmonic Synth
DBX 560A (3)
Focusrite Red 1 Preamp
Maag Audio EQ2 (2)
Maag EQ4 (2)
Meris Hedra
Meris Mercury7 Reverb (2)
Meris Ottobit
Pope Audio Dirty-C Chorus
Pultec EQP-500x (2)
Retro Double Wide
Shadow Hill Stereo Compressor
Smart Research C1LA Compressor
Sunset Sound S1P Tutti Mic Pre
Keyboards
Hammond B3 Organ w/Leslie 122
Korg Triton
Kurzweil K2000
Moog Subsequent 25
Nord Electro 5 HP73
Roland Fantom X8
Roland RD-700
Steinway Model M Piano
Yamaha C7 Grand Piano
Yamaha S90
Amplifiers
Ampeg SVT-7Pro
Ampeg SVT-VR
Ampeg SVT-410HLF
EBS Classic 500 w/410
Peavey Classic 30 (2)
Peavey Special 212
Percussion
DW Collectors 13/16/24
Ludwig Classic Maple Fab 13/16/22
Pearl Congas
Tama Imperialstar 10/12/16/22
Taye Studio Maple  10/12/16/22
Zildjian Cymbals