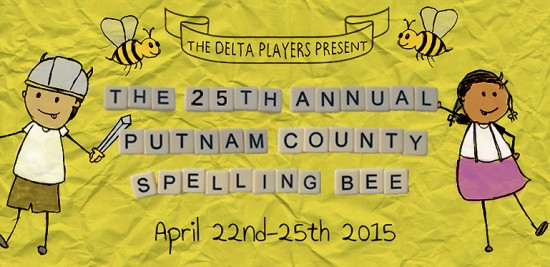 Winner of the TONY and the Drama Desk Awards for Best Book, "The 25th Annual Putnam County Spelling Bee" has charmed audiences across the country with its effortless wit and humor.
Join The Delta Players, under the direction of Dr. Noah Lelek, for performances April 22-25 at 7:30 p.m. in Jobe Hall Auditorium on the campus of Delta State.
Ticket prices are $8 for adults, $5 for children and $3 for Delta State ID holders. Cash will be accepted at the door. This performance is appropriate for audiences 13 and over.
"This is the first musical The Delta Players has produced since 2004 and we are excited about building relationships and collaborating with other departments on campus," said Lelek. "We have faculty and students from theatre, music, English, Delta Music Institute and many other departments all working together to create this show. 'The 25th Annual Putnam County Spelling Bee' is a well-written, comedic musical with heart that is guaranteed to please audience members."
Featuring a fast-paced wildly funny and touching book by Rachel Sheinkin, and a truly fresh and vibrant score by William Finn, this bee is one unforgettable experience.
An eclectic group of six mid-pubescents vie for the spelling championship of a lifetime. While candidly disclosing hilarious and touching stories from their home life, the tweens spell their way through a series of potentially made-up words hoping to never hear the soul-crushing, pout-inducing, life un-affirming "ding" of the bell that signals a spelling mistake.
Six spellers enter — one speller leaves! At least the losers get a juice box.
– See more at: http://www.mtishows.com/show_detail.asp?showid=000336 – sthash.hyaeVc7C.dpuf