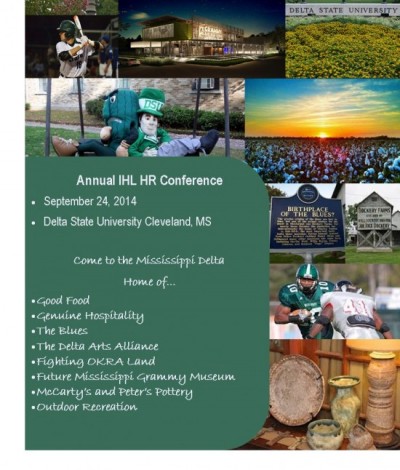 Delta State University's Department of Human Resources will be hosting a one-day Institutions of Higher Learning conference Sept. 24 at the Jacob Conference Center on campus. Human resources staff from Mississippi IHL institutions will unite for a day of professional development, team building and networking.
This is the second annual IHL HR Staff Conference, with last year's being hosted by Mississippi State University. Staff from across the state were sent personal invitations to the unique event.
The schedule will include an overview of the Healthcare Reform/Affordable Care Act; survival skills for HR professionals; a leadership and motivational program; and a luncheon with entertainment by Tricia Walker, director of the Delta Music Institute.
"Delta State University has the honor and privilege of hosting the second annual IHL HR Staff Conference," said Lisa Giger, associate director of Delta State Human Resources. "This provides an excellent opportunity to invite our colleagues to Fighting Okra Land and showcase the genuine hospitality, good food, music genres and artistry landscapes of the Delta."
Approximately 55 HR employees from the following institutions will be in attendance: Delta State University; Institutions of Higher Learning; Jackson State University; Mississippi State University; University of Mississippi; University of Mississippi Medical Center; Mississippi Valley State University; University of Southern Mississippi and Alcorn State University.
Learn more about Delta State Human Resources at http://www.deltastate.edu/finance/human-resource-department.