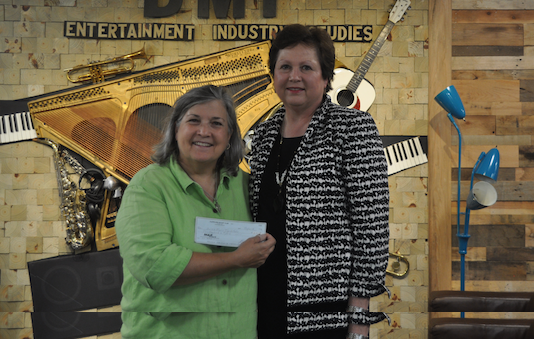 This week, the Cleveland Rotary presented the Delta Music Institute (DMI) with a check in support of the many projects and services faculty and staff in the DMI provide to Rotary and the entire Cleveland community throughout the year.
DMI Director Tricia Walker accepted the check on behalf of the program. The DMI is an independent center under the College of Arts & Sciences at Delta State University. Its mission is to provide students with a broad and thorough education in the technological, creative, and business areas of the entertainment industries.
"Not only does Tricia Walker, her faculty/staff, and students make themselves available to educate Rotary about their programs, they provide a range of services—from performances to partnering with local schools and the entertainment industry—that make Cleveland a more viable and quality place to live," said Rotarian Leslie Griffin, who also is Dean of the College of Education and Human Sciences.
The Rotary Club is an international service club that promotes good will and partnerships that provide services to the community.
For more information on the DMI, visit www.deltastate.edu/dmi.