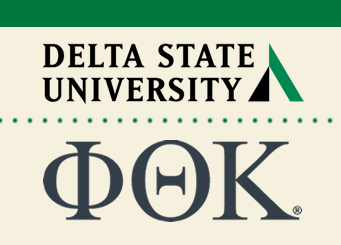 Transfer students who are members of the honor society Phi Theta Kappa will be welcomed to Delta State's campus on April 29 for Early Registration Day. The event provides the opportunity for this group of incoming students to reserve their spot in fall courses.
Participants will meet at the Bologna Performing Arts Center at 8 a.m. for a welcome and overview before meeting with advisors and registering for classes. An optional classroom experience, campus tour and lunch at Young-Mauldin Dining Hall will also be offered. The event is hosted by the Office of Admissions.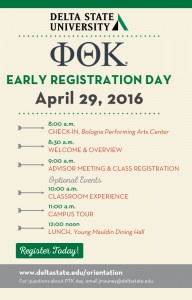 Eligible PTK members receive a 100 percent tuition scholarship at Delta State that may be stacked with an All-Academic Team Scholarship and privately funded scholarships.
Caitlyn Thompson, director of recruiting, said that the university has offered scholarship benefits to PTK members for years.
"Delta State is a very attractive option for transfer students who are Phi Theta Kappa members," she said. "They are able to continue their education at the university level with no out-of-pocket expenses for tuition."
Initial eligibility for the scholarship requires verification of PTK membership, 3.00 cumulative GPA and completion of 60-140 cumulative earned hours.
To inform PTK members about Delta State degree programs, scholarships, campus life and more, admissions recruiters have attended college fairs and made private visits throughout the fall and spring semesters. Most recently, thousands of PTK members heard about Delta State at the annual its annual convention NerdNation held in National Harbor, Maryland.
Registration for PTK Day is required and can be completed online at http://bit.ly/1SDANTS.
To follow all events and stay informed about upcoming deadlines, follow the Office of Admissions on Facebook and Instagram, or visit www.deltastate.edu/admissions.