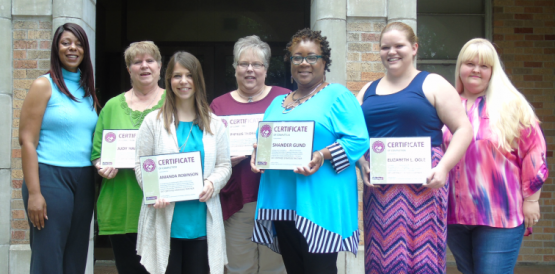 Five Delta State staff members recently completed the P.A.T.H.S. (Partnership for Applying Technology to Help Students) Program sponsored by the Office of Information Technology.
The first cohort of the 2016 academic year graduated Thursday after participating in the professional development program over a three-day period.
"As a new employee at DSU, this training introduced me to the OIT staff, their responsibilities and an overview of the resources available to make my job a little easier," said Shander Gund, senior secretary in the Department of Social Work. "These tools will also allow me to be more resourceful to my team."
Over the course of three days, participants had hands-on experiences and workshops on OIT supported technologies including Canvas LMS, Banner XE, DSU network services, cybersecurity and Sway.
OIT presenters included Kelly Kirkland, senior instructional designer; Dr. Nicole House, director of instructional technology; Chris Giger, director of enterprise services; and Murat Gur, manager of network services.
"All the information was so useful and the instructors were great," said Phyllis Thornton, senior secretary in Health Services. "I look forward to using what we learned in my department this year."
P.A.T.H.S. was designed to empower staff with resources to contribute to student success with campus technologies and services. At the conclusion of the program, participants received a certificate of completion with recognition as OIT Certified Strategic Partners in promoting student success with technology on campus.
Along with Gund and Thorton, fellow graduates included: Judy Haney, senior secretary for RESSON; Elizabeth Ogle, senior secretary in Language & Literature; and Amanda Robinson, senior secretary in Family & Consumer Sciences.