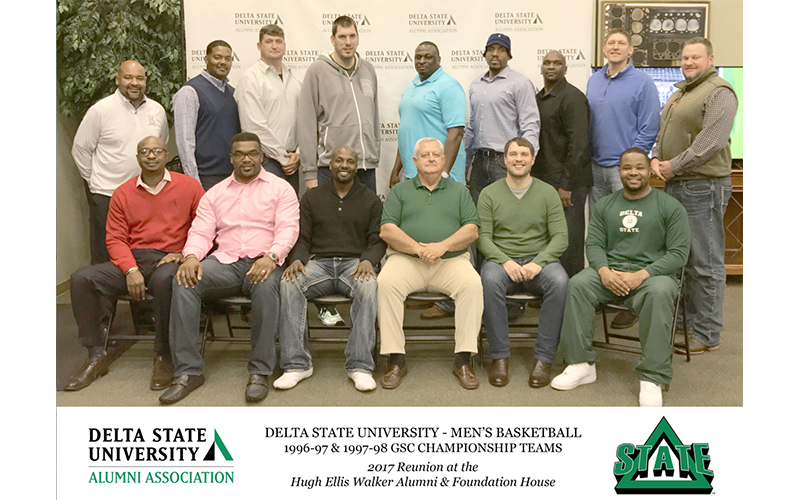 Photo (front row, left to right): Stacy Miller, Carlos Kelley, Tim Pledger, former coach Steve Rives, Brad Bunch, Dwaun Warmack. Back row (l to r): Robert Thompson, Rodney Francis, Ross Dorr, Marco Nicvwenbrock, Chris Sykes, Richard Micheaux, Twentis Magee, Jay Walton and Jon Parker.

The Delta State University Alumni Association recently hosted a Reunion of the men's basketball 1996-98 Gulf South Conference championship teams.
During a dinner banquet, the former players were recognized for their contributions to the basketball program at Delta State. They then received updates on the current basketball program and future plans for athletic facility upgrades from head men's basketball coach James Boone and Athletic Director Ronnie Mayers.
Special guest former coach Steve Rives shared words of wisdom while catching up with his former teams.
"It is always special when alumni and former staff make their way back to their alma mater," said Jeffrey Farris,  Alumni director. "It was very special to witness the guys relive the camaraderie, team spirit and fellowship that still lives on within our athletic programs today."
To stay up to date on the Alumni Association's activities, follow these social media sites: Facebook (Statesmen Graduates), Twitter (@DSU_Alumni), Tumblr (http://www.dsualumni.tumblr.com), LinkedIn (DSU alumni), Instagram (dsualumni) and You Tube (dsualumni1). Save the date for this year's Go Green Weekend (April 8), Pig Pickin' (Oct. 7) and Homecoming (Nov. 11).