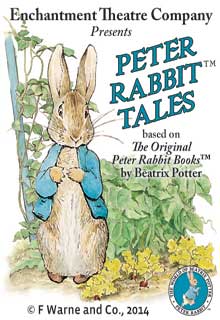 "Once upon a time there were four little rabbits, and their names were Flopsy, Mopsy, Cotton-tail and Peter …"
These famous opening lines of "The Tale of Peter Rabbit" have enchanted young audiences for over 100 years. In celebration of the 150th anniversary of Beatrix Potter's 150th birthday, Enchantment Theatre, in collaboration with the Estate of Beatrix Potter and Penguin Books UK, will bring her captivating stories to life at the Bologna Performing Arts Center with two BPAC School-Time Matinee performances of "Peter Rabbit™ Tales" on Jan. 29.
Come along for the exploits of a charming hero, who, going against his mother's wishes, has adventures (and misadventures) in Mr. McGregor's garden. Using fantastic masks, whimsical puppets, and original music, Enchantment Theatre introduces children to the timeless stories of Beatrix Potter as never seen before.
This show is locally sponsored by Entergy.
The 9:30 a.m. show is completely sold out, but tickets are still available for the 11:30 a.m. performance. Tickets are $6 for adults and students, and are available for purchase by stopping by the BPAC or calling 662-846-4844 for more information. 
The suggested grade levels for this performance are Pre-K through fourth grade. Teachers are encouraged to download the free study guide created by Enchantment Theatre from the BPAC's website, www.bolognapac.com.