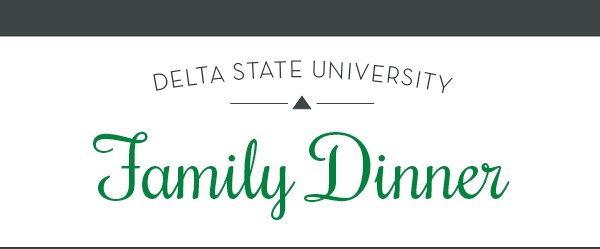 The Office of Admissions is hosting a series of events for admitted students and transfer applicants called "Delta State Family Dinner."
Admitted students and transfer applicants across the region have been invited to have dinner with university representatives, future classmates and alumni. They will also receive an exclusive Delta State t-shirt. Dinners are being hosted in territories across the state where a concentrated amount of admitted students are located. RSVPs may be emailed to admissions@deltastate.edu.
Admitted students and their family in the Cleveland area are invited to The Warehouse February 9 at 5:30 p.m.
"We want to do something special to recognize our future Statesmen. Hosting a family dinner will let them know how excited we are to welcome them to campus," said Diana McLemore, admissions recruiter for the Delta area.
Students in the North Mississippi and Tennessee area are invited February 11 to the Bank Plus Training Center in Southaven at 5:30 p.m. The family dinner for students in the Grenada area will be held March 1 at the Maddox Center in Grenada at 6:00 p.m. Students on the coast will be having dinner February 4 at 5:30 p.m. at The Shed in Ocean Springs. Contact sshepherd@deltastate.edu for more information.
Interested students may apply online at www.deltastate.edu/apply, and campus visits may be scheduled www.deltastate.edu/visit. Students that have submitted an application may check their status by logging in to their student account at any time or by calling 662-846-4020.
For more information, please contact the Office of Admissions at 662-846-4020 or email admissions@deltastate.edu.