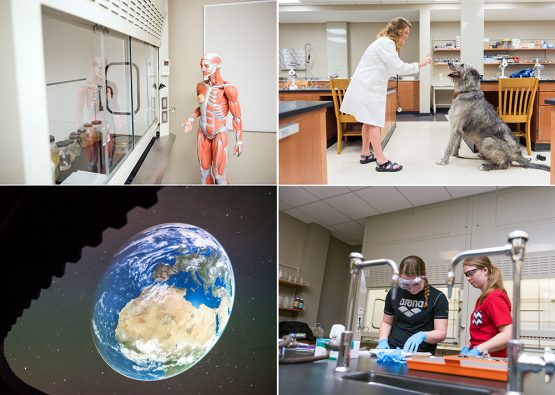 With just a few finishing touches remaining, Delta State University's mathematics and science facility, Caylor-White-Walters Hall, now represents one of the most state-of-the-art higher education facilities in the state.
Thanks to $18 million in capital improvement over the past few years, the building now houses top-notch equipment and laboratories for the Department of Biological Sciences, Department of Chemistry and Physics, and the Department of Mathematics within the College of Arts and Sciences.
Funding for the project came from the State of Mississippi Bureau of Buildings.
The building features laboratories for all areas of sciences including biology, chemistry, physics, DNA technology and anatomy, as well as computer labs and classrooms for mathematics curriculum. It also features a planetarium, making Delta State the only university in the state to host such a facility, and a herbarium, which is home to over 17,000 plant specimens and serves as a scientific and educational resource for researchers around the world.
Other highlights include new SMART Podium interactive displays and projectors, renovated auditoriums, a new Scanning Electron Microscope that can magnify objects 300,000 times their actual size, specialized temperature and humidity controlled rooms for animal care, new instrumentation like the 300MHz nuclear magnetic resonance spectrophotometer, and much more.
Overall, the changes allow for additional teaching and research space. Additionally, new classroom furniture and faculty offices have drastically improved the overall learning environment.
Delta State University President William N. LaForge is thrilled with the endless opportunities the new facilities will provide.
"This is a top quality feature of Delta Sate, and it represents part of what we do best," said LaForge. "I am so pleased that we are finally nearing completion on this massive long-term renovation project. And we now, very clearly, have a state-of-the-art set of facilities, labs and equipment to serve our students and faculty. With these tools in place, our faculty will now have an enhanced ability to provide top-tier math and science education for our students — which will prepare them for graduate and professional schools, as well as exciting careers."
Dr. Charles McAdams, provost and vice president of Academic Affairs, echoed LaForge's excitement.
"We look forward to having this important building renovated and updated. It is especially important in the sciences to have a facility that offers the latest laboratory facilities and equipment," said McAdams. "Our graduates will leave here to go on to medical school, veterinary school, or dental school, or become a science teacher. To be successful in those professions, we owe it to them to provide the most robust and relevant academic experience possible. The renovation and upgrades to the facility will help us make significant strides in achieving this unending goal. I believe it is essential for a university to provide a physical learning environment that is supportive and conducive for teaching and for learning. Caylor-White-Walters is now a place where faculty and students look forward to come and discover the wonders of math and science."
According to Dr. David Breaux, dean of the College of Arts and Sciences, everyone is relieved to see work wrapping up in a building where students and teachers have had to adapt to the construction going on around them.
"With the end of the renovation process clearly in sight, faculty and students are overwhelmed with joy," said Breaux. "And, as Dean of the College of Arts and Sciences, I am proud that we are able to offer our students courses in state-of-the-art classrooms and labs. No longer do students have to worry about dealing with broken or outdated furnishings and equipment, but can instead concentrate fully on mastering the material they are being taught."
Katie Penton, a graduate student majoring in chemistry, appreciates the opportunity to work and study within the updated facility.
"I've been here since undergrad, so I've been around to see how far everything has come along," said Penton. "It's been really neat to see all the new labs, classrooms and equipment. The computer lab will be great with all the new software, and I really like the lab spaces. As a master's student, I'll be doing a lot of lab work and using a lot of equipment. Going into my thesis, it's really good to know I'll have access to these features and make my project the best it can be."
One feature that is receiving extra attention is the planetarium, which will provide the perfect setting for astronomy courses, but will also set the stage for learning opportunities across campus and the community.
In addition to the new seats, carpet and other amenities, the renovation also included the installation of the dual projector Digistar 5 planetarium system from Evans and Sutherland, and the professional quality 5.1 surround-sound system from Bowen Technovation. The system not only allows users to move their view of the stars back and forth through time, but it also lets users fly through the solar system to the other planets. As a bonus, it also turns the planetarium into a 3-D digital theater.
"The astronomy classes will of course use the planetarium, but one long-term goal is to use the planetarium as an instructional tool for other subjects," said Dr. James Gerald, assistant professor of physics. "Dr. Adam Johanson helped a student with a project this summer to build 3-D models of molecules and display them on the dome. The priority of the planetarium will be teaching astronomy, but we will also have public outreach through shows. We look forward to collaborating with other departments across campus to create new content, and watch for us to start having shows for the public this fall. This will help us broaden the educational mission of the planetarium."
In April of 2016, the COAS established a two-year campaign to build a program called Integral Funding for Science Education, or InFuSE. The goal of InFuSE is to raise funds to support science education and research for Delta State students of all ages, and to increase the involvement of alumni and the community in science education.
"Science education, especially hands-on, is quite costly. In order to keep up with industry standards, we need to have current equipment to prepare our students to go into the workforce or to continue their educational careers through graduate education," said Darlene Breux, Academic Affairs development officer. "Funding will also help the departments in their outreach efforts to support the community. It is necessary to be able to support summer STEM camps for K-12 students. In increasing STEM students, especially here in the Delta, it will help our community grow."
Dr. Rose Strahan, who served as a mathematics faculty member at Delta State for over 40 years, has also kick started an effort to support mathematics students. She initiated the Rose Strahan Scholarship for Mathematics, which is used to support one deserving student in mathematics. She is also a donor to the Mathematics Fund, which provides funding to assist the department in its teaching, research and faculty development needs.
For more information on giving to InFuSE or one of the mathematics funds, visit the Delta State Foundation website at http://www.deltastategiving.org, and search for Instrumental Funding in Science Education, the Rose Strahan Scholarship for Mathematics, or the Mathematics Fund. You may also contact Darlene Breaux for assistance at dhbreaux@deltastate.edu or 662-846-4013.