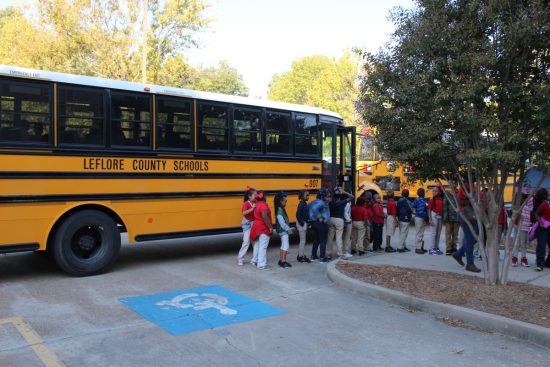 The Bologna Performing Arts Center presented "A Year with Frog and Toad" on Oct. 25, the first show in its School-Time Matinee Series.
Approximately 1,500 students in pre-kindergarten to sixth grades from schools in Mississippi and Arkansas attended the musical which was nominated for three TONY Awards, including Best Musical. The performance was locally sponsored by Monsanto.
Based on Arnold Lobel's beloved children's books, the whimsical musical featuring a jazzy, upbeat score follows two great friends — the cheerful, popular Frog and the curmudgeonly Toad — through four, fun-filled seasons, meeting new friends along the way. Waking from hibernation in the spring, Frog and Toad plant gardens, swim, rake leaves, go sledding, and learn life lessons along the way. The two best friends celebrate and rejoice in their differences that make them unique and special. Part vaudeville, part make believe, all charm, "A Year with Frog and Toad" tells the story of a friendship that endures, weathering all seasons.
"A Year with Frog and Toad" is produced by Casa Mañana, the same theatre company who produced the acclaimed 2013 tour of "Junie B in Jingle Bells, Batman Smells" that was presented at the BPAC.
The next performance in School-Time Matinee Series will be Parsons Dance Company on Wednesday, Nov. 9 at 11 a.m. Parsons Dance is a New York City-based modern dance company internationally renowned for its athletic ensemble work. Recommended for middle and high school audiences, teachers and students alike will be amazed by these talented dancers. A complete study guide is available to complement the production.
Scholarship tickets are also available for public schools through partnerships with the Community Foundation of Northwest Mississippi and Double Quick, Inc. For more information, schools groups can visit www.bolognapac.com/education or call 662-846-4844.