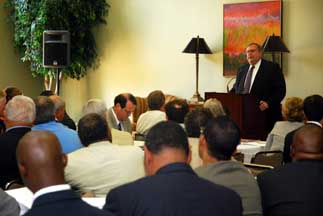 Delta State University President John Hilpert (standing, right) addresses the audience attending the Delta Summit, held in the Simmons Room of the Hugh Ellis Walker Alumni House.
The Delta Summit: Transforming the Delta from a Field of Poverty to a Land Filled with Prosperity was held June 16, at Delta State University. The program was coordinated by Mississippi State Sen. Willie Simmons (D) of Cleveland.
"This is an action strategy summit that will focus on developing an action plan," said Sen. Simmons. "The Delta has had far too many studies and too few action plans. The emphasis will be on the 'T' family – Training, Technology, Transportation, Tourism and Telemedicine."
Gov. Haley Barbour, educators, health care officials, and state and local elected officials came to Delta State to devise a plan for bringing economic growth to the Delta.