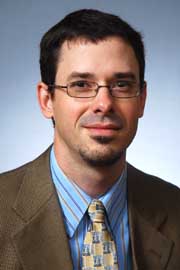 Delta State Associate Professor of Sociology and Community Development Dr. John Green was recently awarded the 2010 Ted K. Bradshaw Outstanding Research Award. The award is presented by the Community Development Society in recognition of outstanding contributions to community development.
Green received his bachelor's in political science and master's in sociology from Mississippi State University. He obtained his Ph.D. in rural sociology from the University of Missouri-Columbia in 2002 and returned to Mississippi as a faculty member in the Division of Social Sciences at Delta State University.
During 2009-2010, he has been interim chair for the Division of Social Sciences and acting chair of the Department of History.
Green is the founding director of the Institute for Community-Based Research at Delta State. A collaborative partnership between the Division of Social Sciences and the Center for Community and Economic Development, the institute works with students, faculty and grassroots organizations to engage in applied research and evaluation. Additionally, the institute partners with a broad array of nonprofits, foundations and universities. Among a diverse portfolio of projects, the institute regularly conducts quantitative and qualitative research and works with organizations to use results for planning and evaluating projects to move communities from vulnerability to resiliency. This involves initiatives in the Delta and the Gulf Coast regions of Mississippi.
In addition to his faculty positions at Delta State, Green has professional appointments as a consultant to the Michigan Center for Public Health Preparedness, University of Michigan and a Research Fellow at the Social Science Research Center, Mississippi State University. He was awarded the Delta State Foundation Prizes for Excellence in Service and for Excellence in Research, and the Rural Sociological Society's Award for Excellence in Extension and Public Outreach in 2009. He served as president of the Alabama-Mississippi Sociological Association, and he is currently a council member with the Rural Sociological Society.
Green will be honored during the Awards Banquet of the Community Development Society Annual International Conference to be held July 25-28, in New Orleans.