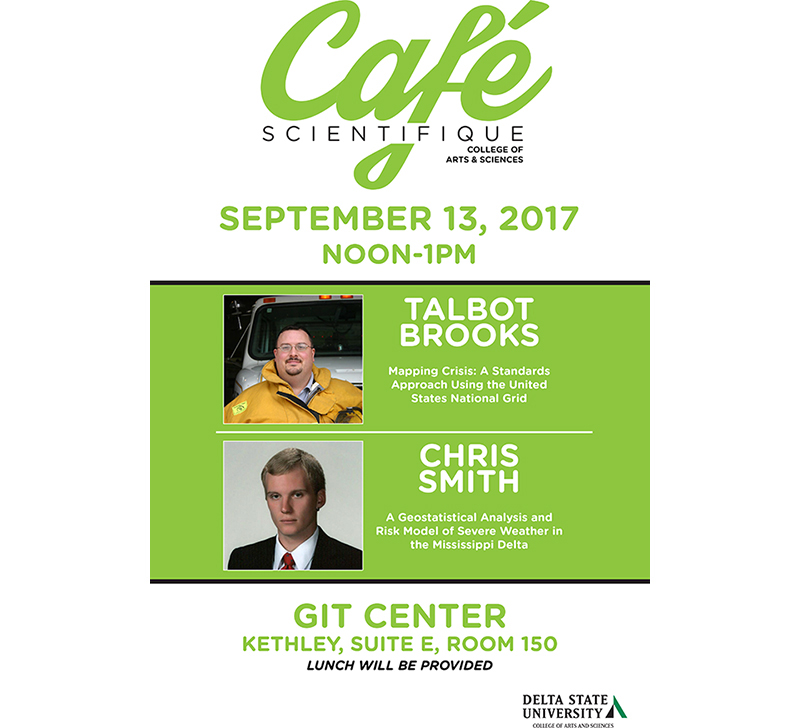 The College of Arts and Sciences at Delta State is pleased to announce the launch of its new luncheon lecture series Café Scientifique.
The monthly series kicks off Sept. 13 from noon to 1 p.m. in the GIT Center (Kethley Hall Room 150). The events are free and open to the public.
Presenters will include Talbot Brooks, director of the Center for Interdisciplinary Geospatial Information Technologies, and Chris Smith, program manager for the center.
Brooks' topic is entitled "Mapping Crisis: A Standards Approach to Using the U.S. National Grid," and Smith will present on "A Geostatistical Analysis of Severe Weather in the Mississippi Delta."
"I will be sharing how mapping and analyzing the location of severe weather events for the past 60 years of the Mississippi Delta region shows that those events are clustered around populated places, in relation to hail, tornadoes and severe wind datasets," said Smith.
Smith added that GIT Center student workers and geospatial analysis and intelligence majors have volunteered the majority of their time the past two weeks to create United States National Grid Mapbooks of the affected areas of Hurricane Harvey and Hurricane Irma.
"These students will continue to support the emergency responders out in the field until mapping support for the disaster rescue and recovery efforts are no longer required," said Smith.
For more information on the lectures, contact Dr. Douglas Mark (dmark@deltastate.edu) or Margaret McClain (mmcclain@deltastate.edu).