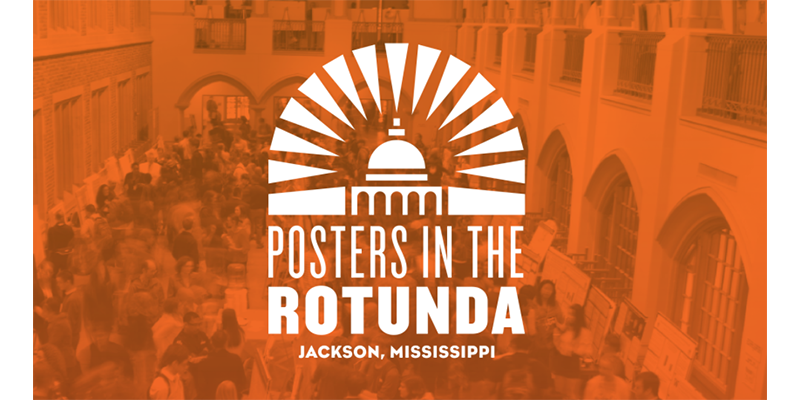 Students from all eight of Mississippi's public universities will share their research and creative activities on a variety of topics Thursday with legislators and state leaders at Posters in the Rotunda, held in the Rotunda of the State Capitol. Students will show how their research solves some of Mississippi's most pressing problems and benefits the citizens of the state.
Participating Delta State students and their topics included:
Kristina Hong: Game-Based Student Response Systems and Academic Performance
Brittany Hulsey: Paleocommunity of Rancholabrean Age Megafauna Found Along Lower Mississippi Delta Gravel Bars
Kiersten Page: Using VARK Modalities to Increase Retention in Organic Chemistry
William Weeks: Electrospinning Alginate-Based Nanofibers
The event provides opportunities for legislators to visit with students from their districts, allows students to network with each other as they learn about work on other campuses, and showcases the cutting-edge research conducted by undergraduates that benefits the residents of Mississippi.
"Posters in the Rotunda epitomizes both the diversity and high quality of the scholarship being done by students and their faculty mentors," said Dr. Marie Danforth, chair of the steering committee for the Drapeau Center for Undergraduate Research at The University of Southern Mississippi, and coordinator of the event. "This year, we've been able to expand the event to include more undergraduates from each university. Two students representing Mississippi INBRE, a statewide program focusing on biomedical research, are also participating."
Scheduled speakers include Governor Phil Bryant and Lieutenant Governor Tate Reeves, with introductions given by Dr. Gordon Cannon, vice president for research at The University of Southern Mississippi.
"I am so pleased that the Posters in the Rotunda event has been expanded to include even more students for its second year," said Dr. Glenn Boyce, Commissioner of Higher Education. "This is an excellent program that highlights the value of undergraduate research and the impact university research has on solving Mississippi's most pressing problems. Participating in undergraduate research projects provides a great experience for the students, strengthening their academic, leadership and presentation skills and preparing them for research on the graduate level."
Modeled after the Posters on the Hill event in which students from across the country share their work in the U.S. Capitol in Washington, D.C., Mississippi's event is similar to ones held in 17 other states.
More information on the Posters in the Rotunda event is available at http://postersintherotundams.org.
# # #
The Mississippi Board of Trustees of State Institutions of Higher Learning governs the public universities in Mississippi, including Alcorn State University; Delta State University; Jackson State University; Mississippi State University including the Mississippi State University Division of Agriculture, Forestry and Veterinary Medicine; Mississippi University for Women; Mississippi Valley State University; the University of Mississippi including the University of Mississippi Medical Center; and the University of Southern Mississippi.