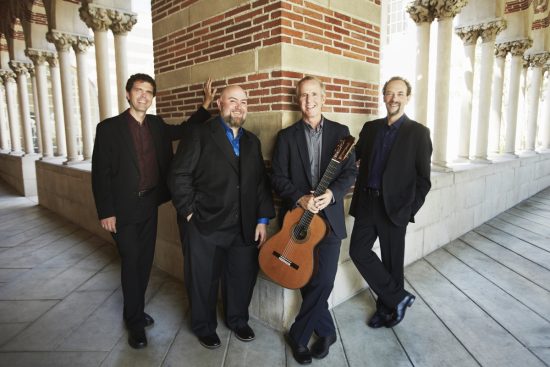 The Los Angeles Guitar Quartet will perform at the Bologna Performing Arts Center on Oct. 6 at 7:30 p.m. The concert is part of the BPAC's new Recital Hall Series, featuring classical music performances in the intimate, 145-seat Recital Hall. Ticket holders will enjoy a social hour with heavy hors d'oeuvres one hour prior to the performance beginning at 6:30 p.m. Limited tickets remain to see this award-winning ensemble.
For over three decades on the concert stage, the members of the Grammy® Award-winning Los Angeles Guitar Quartet have continually set the standard for expression and virtuosity among guitar ensembles, while perennially redefining themselves in their musical explorations. Popularly known as the LAGQ, the group is recognized as one of America's premier instrumental ensembles. As one of the most charismatic groups performing today, their critically-acclaimed transcriptions of concert masterworks provide a fresh look at the music of the past, while their interpretations of works from the contemporary and world-music realms continually break new ground.
LAGQ has given recitals in many of the world's top venues, including Chicago's Orchestra Hall, London's Wigmore Hall and Southbank Centre, Tokyo Opera City, and New York's Lincoln Center and Carnegie Hall. They have toured extensively in Europe and Asia and recently made highly successful debuts in China and Australia. They kicked off their 2016-17 season with a tour of Germany and continued performances throughout the season spanning the United States.
Tickets to see LAGQ are $50 and include a social hour prior to the performance. Patrons can also purchase a Recital Hall Series package for $90, which includes tickets to both LAGQ and SYBARITE5 on March 21, 2017.
Tickets are available at the BPAC Ticket Office, open Mondays-Fridays from 9:30 a.m. to 4:30 p.m., by phone at 662-846-4626, or online at www.bolognapac.com. For more information about the Los Angeles Guitar Quartet, visit www.lagq.com.