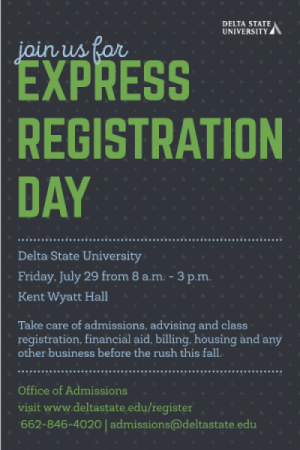 The Office of Admissions at Delta State University is sponsoring Express Registration Day on July 29 beginning at 8:00 a.m. Students planning to attend in the fall that have not registered for classes are encouraged to check-in at Kent Wyatt Hall to take advantage of expanded student services.
Representatives from the Offices of Admissions, Financial Assistance, Student Business Services, Registrar, Housing, Graduate Studies and Student Life as well as the Student Success Center and academic advisors will be available to assist students throughout the day.
Express Registration Day is being held to benefit those students with outstanding business, according to Caitlyn Thompson, director of recruiting.
"The goal of the event is to provide incoming and returning students with the opportunity to take care of any loose ends before the fall rush," said Thompson. "With campus-wide support, it will be a celebratory event with music, refreshments, prizes and most importantly, productivity."
Event registration is not required. Students may come-and-go at their convenience, but advising is only guaranteed through 3:00 p.m.
For details about Express Registration Day, visit www.deltastate.edu/register, call Admissions at 662-846-4020, or email admissions@deltastate.edu.
The staff in the Office of Admissions works with students to complete the undergraduate admission process, provides campus visits to prospective students, hosts and attends recruiting events, oversees new student scholarships and communicates with students individually. To complete an application or check your admission status, please visit www.deltastate.edu/account.