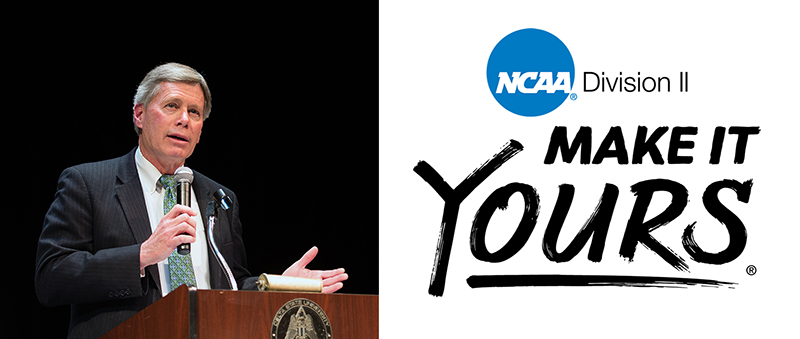 Delta State University President William N. LaForge was recently appointed to the prestigious NCAA Division II Planning and Finance Committee.
In the role, LaForge will take part in the division's central planning, as well as the financial matters of how dollars will be used.
"I am pleased to serve on this important NCAA committee," said LaForge. "Its work is central to the mission of NCAA's support of collegiate athletics and our student-athletes, here at Delta State and around the country."
LaForge is one of the representatives on the committee who is also a member of the NCAA Division II Presidents Council. He said he was proud to represent Delta State and the Gulf South Conference.
"If there is something I can do to help Delta State, and our students, I'm all for it," he added.
Terri Steeb, vice president of Division II, said LaForge's leadership experience would help the committee significantly.
"President LaForge is a senior member of the Division II Presidents Council," said Steeb, "His leadership and his understanding of the issues impacting Division II and the association will be a benefit to the work of the Division II Planning and Finance Committee. The committee is responsible for making recommendations regarding the Division II budget and monitoring the implementation of the Division II strategic plan. President LaForge's ability to think strategically, combined with his work in policy, government and higher education, will be an asset to the committee."
Ronnie Mayers, Delta State's director of athletics, said LaForge is a perfect candidate for the role.
"President LaForge is a great fit for the committee because he has had extensive experience in strategic planning leading strategic plans for Delta State and the Gulf South Conference," said Mayers. "He understands first-hand the budgetary needs of a Division II athletic program as he works closely with our program on a daily basis. All these experiences will help him make solid recommendations to this committee. Delta State Athletics and the NCAA are very fortunate to have him serve on this committee."
Follow all Delta State news at www.deltastate.edu.