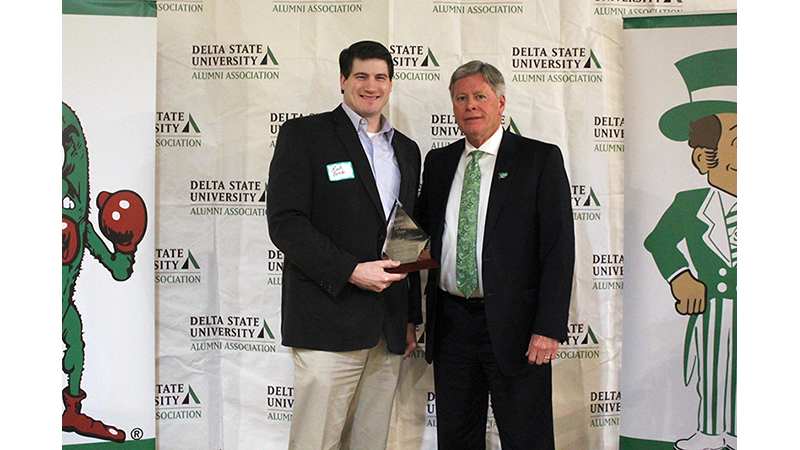 Dr. Mark Barron '02 (left), South Central Mississippi Chapter Alumnus of the Year, and Delta State President William N. LaForge.
The Delta State University National Alumni Association held its annual South Central Mississippi Alumni Chapter Meeting Feb. 8 at Mitchell's Special Events & Catering in Brookhaven.
Ken Dixon '84 is the owner and has hosted the meeting the past four years.
The night of fun and fellowship featured Delta State President William N. LaForge, head women's cross country coach Doug Pinkerton, Admissions recruiters for the South Central area Aja Buckhalter and John Mauney, Alumni Association staff members, assistant directot Amanda Robinson and director of Alumni Affairs, Jeffrey Farris.
Alumni and friends of Delta State received a university update, ways to continue to get involved in their alma mater, and new happenings within their university town Cleveland, Mississippi.
LaForge provided the university updates related to construction and academic advancements. Farris and Robinson spoke of behalf of the National Alumni Association on ways to stay involved in the life of the university.
Dr. Mark Barron '02 was recognized as the South Central Mississippi Chapter Alumnus of the Year. Barron is a board-eligible orthopaedic surgeon who specializes in hip and knee replacements and care for the spine at Kings Daughter Medical Center Sports Medicine Orthopaedic & Spine Clinic. He was born and raised in Laurel and returned to Mississippi to practice after completing his medical training out of state.
Barron enjoys being close to family and living in a place where he can practice both orthopedic surgery and specialty spine care. He became interested in sports and orthopedic medicine after being injured playing high school sports. He received his bachelor's from Delta State in 2004. Additionally, he was a four-year letterman for the Delta State football team. He returns to campus multiple times each year to cheer on his alma mater and tailgate at Statesmen Park for the annual Pig Pickin' festivities.
The South Central Chapter also established the Doug Sullivan Memorial South Central Scholarship. The scholarship was presented to two incoming freshmen students Abby Thomas (Loyd Star High School) and Dalton Clay (Lawrence County High School). The $500 scholarship is a one-time gift for their first year.
To view photos from the event, visit https://www.flickr.com/photos/dsualumni/albums/72157663871224677.
To stay up to date on the Alumni Association's activities, follow these social media sites: Facebook (Statesmen Graduates), Twitter (@DSU_Alumni), LinkedIn (DSU alumni), Instagram (dsualumni) and You Tube (dsualumni1). Save the date for this year's Go Green Weekend (April 28), Pig Pickin' (Sept. 22) and Homecoming (Nov. 10).
SaveSave