Delta State's Hilpert earns selection to SACS Executive Council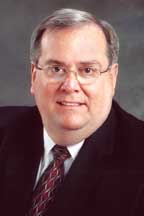 Delta State University President, Dr. John M. Hilpert recently received a prestigious appointment from the Southern Association of Colleges and Schools (SACS) based in Decatur, Georgia.

Dr. Hilpert was selected to serve a one-year term on the 2008 Executive Council of the Commission. As the state's elected Council member, he will also serve as Chair of the State Delegation Council from Mississippi which includes David L. Beckley, President of Rust College in Holly Springs, Martha D. Saunders, President of The University of Southern Mississippi in Hattiesburg and Robert Ward, President of Windmill Properties, Inc., in Meridian, Public Representative.

"This is certainly a tremendous honor," Hilpert acknowledged. "More than that, though, it is an opportunity to serve a commission that does such valuable work."
There are approximately 800 institutions accredited by SACS. One voting representative from each accredited institution elects seventy-seven Commissioners to guide the organization's work and to implement the accreditation process. The thirteen-member Executive Council is the executive arm of the Commission with primary responsibility for interpreting Commission policy and procedure. It also functions on behalf of the Commission between sessions.


Dr. Hilpert attended his first Executive Council meeting at the end of February. His selection stands as continued testament to his commitment and dedication to the work of the Commission.


The Commission on Colleges of the Southern Association of Colleges and Schools is the recognized regional accrediting body in the 11 U.S. Southern states (Alabama, Florida, Georgia, Kentucky, Louisiana, Mississippi, North Carolina, South Carolina, Tennessee, Texas and Virginia) and in Latin America for those institutions of higher education that award associate, baccalaureate, master's or doctoral degrees.