Delta State to host 17th annual Elliott-Nowell-White Science Symposium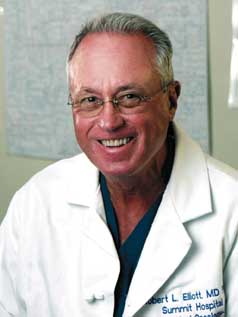 Dr. Robert Elliott
Delta State University will host the 17th annual Elliott-Nowell-White Science Symposium, a "Program of Excellence," Thursday, Oct. 9 through Friday, Oct. 10.

The forum was created by Dr. Robert Elliott to educate students and stimulate their minds, just as his professors had done. Elliott founded the Elliott-Elliott-Head Breast Cancer Research and Treatment Center in Baton Rouge, La., and with the combination of vision and hard work, he has turned his center into one of the leading privately-owned breast cancer research centers in the world.

On a visit to the Delta State campus in 1991, Drs. Robert and Mary Elliott, both Delta State graduates, were renewed with a feeling of pride for their alma mater and decided to give something back. Thus, the "Program of Excellence" was formed.

The theme for this year's symposium is "The Year of Cancer Immunotherapy."

The Thursday afternoon lectures will be held in Jobe Hall Auditorium on campus.

Dr. Gustav Gaudernack, Professor of Immunology, and Dr. Kjetil Tasken, Professor of Medicine, both from the University of Oslo, Norway, will be the featured speakers on Thursday.

Dr. Gaudernack's lecture, "Cancer Vaccine Targeting Key Molecules in Carcinogenesis: 15 years Experience in Clinical Trials" will begin at 4:30 p.m. followed by Dr. Tasken, "Targeting the cAMP-PKA type 1 Pathway in T-cells-Mechanism Based Opportunities in Cancer Immunotherapy," at 5:30 p.m.

The Friday morning lecture series will be held in room 205 of Caylor Hall on campus.

The first session starting at 9:15 a.m. will feature presentations by Elliott Research Fellows, Justin Smith and Justin Nichols.

At 10 a.m., Dr. Larry McDaniel, Professor of Microbiology, Surgery, and Medicine, University of Mississippi Medical Center, will discuss host-pathogen interactions during Streptococcus pneumoniae colonization and infection.

At 11 a.m., Dr. Olga McDaniel, Professor of Surgery, University of Mississippi Medical Center, will lecture on the role of immunogenetics in clinical outcomes associated with trauma injuries.

In addition to the symposium, the Elliotts have created excellent scholarships for outstanding Delta State students, providing an opportunity for one or more students to participate in the "Research Fellowship Program." This internship allows select students to learn alongside the Elliotts and other members of the team at the Center in Baton Rouge.

The Elliott-Nowell-White Science Symposium is free and open to the public. For more information, contact Dr. Tanya McKinney in the Division of Biological and Physical Sciences at (662) 846-4244.