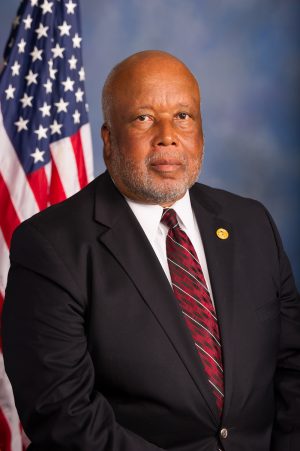 The Delta State University Colloquia Distinguished Speakers Lecture Series continues this semester with U.S. Congressman Bennie Thompson of Mississippi on Nov. 9.
Rep. Thompson's speech, titled "A Look Back at the 2016 National Election," will begin at 6 p.m. on Nov. 9 in the Jobe Auditorium on campus — just one day after the 2016 national elections. The presentation is free and open to the public.
Delta State President William N. LaForge established the colloquia program when taking office in 2013. The platform is an ongoing series of top-flight lectures and addresses featuring prominent speakers. William F. Winter, former Mississippi governor, was honored as the first speaker in 2013.
"We're thrilled to bring Congressman Thompson here for our Distinguished Speakers Lecture Series," said LaForge. "It seemed fitting to invite him to campus the day after the national election to give us a snap-reaction to the election results. It's an ideal opportunity for our campus to engage him, as our congressman in Washington, and at the same time, allow him to share his knowledge about what's going to happen at the top of the ticket."
Rep. Thompson has spent his entire life giving a voice to the voiceless. His lifelong public service record is a testament to his unwavering dedication to fulfill and exceed the expectations of the constituents of the Second Congressional District of Mississippi.
A native of rural Bolton, Thompson has always been aware of the realities that plague the South. Viewing the experiences his family endured firsthand became the catalyst for his passion for those who were often times underserved.
He is a product of the Hinds County School District and later earned a Bachelor of Science from Tougaloo College and a Master of Science from Jackson State University. While pursuing his education, Thompson began to cultivate his passion for grassroots political activism. A product of the Civil Rights movement, he joined the Student Nonviolent Coordinating Committee, and helped to organize voter registration drives for African Americans in the Mississippi Delta. After graduating from college, he followed in the footsteps of his mother and worked as a schoolteacher. It was during this time that he began to aggressively pursue a career in politics.
Thompson has served the Second Congressional District since 1993. He is the longest-serving African American elected official in the state of Mississippi, and he is also the only Democrat in the Mississippi Congressional delegation. Thompson's voting record is indicative of his determination to be an activist for reform. In 2000, he authored legislation creating the National Center for Minority Health and Health Care Disparities, which subsequently became law. Thompson also received a presidential appointment to serve on the National Council on Health Planning and Development.
In 2006, during the 109th Congress, Thompson's Washington colleagues expressed their overwhelming confidence in his abilities and selected him to serve as the first Democratic chairman of the House Homeland Security Committee. As chairman, he introduced and engineered House passage of the most comprehensive homeland security package since Sept. 11, 2001 — H.R. 1, the "9/11 Commission Recommendations Act of 2007."
LaForge said the Distinguished Speakers Lecture Series is another commitment to bringing excellence to Delta State.
"The university colloquia program gives our institution a chance to hear from and engage with experts from a wide array of professions and interests," said LaForge. "It especially allows our students and faculty to rub elbows with professionals and resources we sometimes have the rare opportunity to engage. Great universities have great programs, and this is one."
Those unable to attend the event can view the live stream speech online through the university's official LiveStream channel: https://livestream.com/DeltaStateUniversity. Learn more about the series at www.deltastate.edu/president/colloquia.