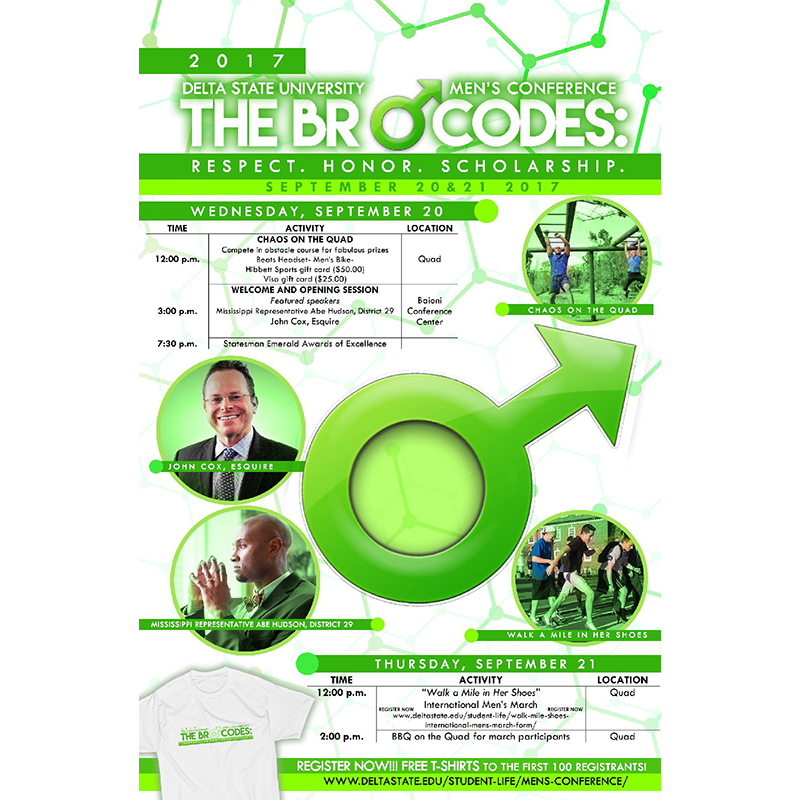 The Office of Student Affairs will present the 2017 Men's Conference titled "The Bro Codes: Respect. Honor. Scholarship." on Sept. 20-21 at Delta State University.
Under the direction of Vice President for Student Affairs Dr. Vernell Bennett, the conference will focus on appealing to the social and civic conscience of male students at DSU.
"Conference participation will be a means to increase student engagement, foster a culture of students supporting one another, endorse a healthy mind, body and spirit, participate in community service, encourage regional stewardship, networking, and finally, recognize student excellence," said Bennett.
Students are asked to register online for the event at http://www.deltastate.edu/student-life/mens-conference. The schedule of events will be free to students, and the first 100 registrants will receive a free T-shirt.
Events kick off at noon on Sept. 20 with "Chaos on the Quad," an obstacle course offering prizes to winners. At 3 p.m. in the Baioni Conference Center, an opening speaker session will feature Mississippi representative Abe Hudson, District 29, and John Cox, a Delta State graduate and owner of Cox & Moore, PLLC, a full-service law firm in Cleveland. At 7:30 p.m, the Statesman Emerald Awards of Excellence will be given out, also in the conference center. The awards will recognize students for their scholarship and involvement on campus.
On Sept. 21 at noon, the conference continues with "Walk a Mile in Her Shoes," where DSU males will walk around the quad to raise awareness about the causes, effects and remedies to sexualized violence against women. Those wishing to donate heels for the event are asked to drop them off at Suite 307 in the Student Union. Registration for the walk is available at http://www.deltastate.edu/student-life/walk-mile-shoes-international-mens-march-form/. Following the march, a BBQ will be held for participants.
"We're going to have some fun while raising awareness about a great cause," said Bennett. "We want our males to lose their inhibitions and don some red pumps to raise awareness, and we want our ladies to come out and cheer them on. Seeing the gentleman conquer the quad in red pumps will be quite a sight. Women are welcome to register for the march as well."
"I hope the biggest takeaway for the students is that they'll resolve to become more intentional about engaging on campus, in the community and with one another," added Bennett.
For more information, contact 662-846-4150.