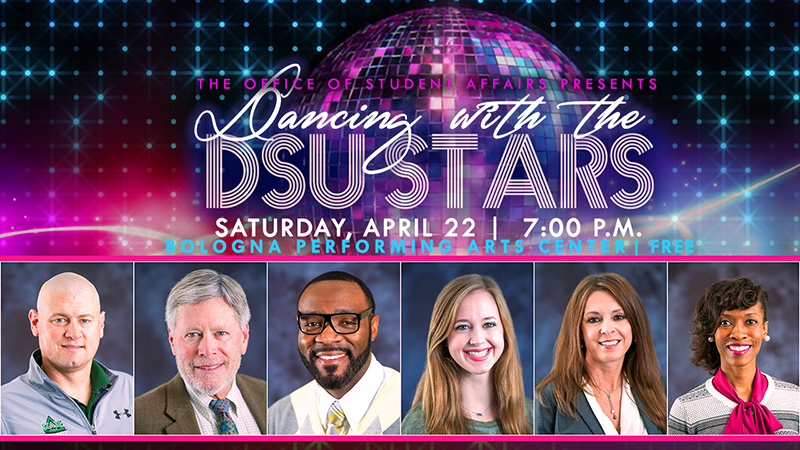 The Office of Student Affairs presents Dancing with the DSU Stars on April 22 at 7 p.m. in the Bologna Performing Arts Center. The event is free and open to the public.
The show is modeled closely after the "Dancing with the Stars" television show.  Participating Delta State dancers will be partnered with a husband and wife professional team out of Memphis — Benji and Beth Smith of DanceSmiths Studio.
Participants include: Delta State President William N. LaForge; Michael Lipford, director of Student Development; Dr. Michelle Roberts, vice president for University Relations and chief of staff; Dr. Temika Simmons, assistant professor of psychology; Todd Cooley, head football coach; and Madison Nash, 2016 Delta State University Homecoming queen.
Dr. Vernell Bennett, vice president for Student Affairs, said this will be a great event to improve town-gown relations.
"We are focused on improving student engagement and building collaborations across campus and within our community," said Bennett. "This fun event will achieve both endeavors because it's a wonderful opportunity for the campus and community to enjoy one another. It's also a way for students to see another side of our faculty, staff and administrators."
"Going forward, Student Affairs will offer at least one event annually that will be for both the campus and the community," added Bennett. "We're most grateful to our dancers for committing to this project, especially President LaForge."
Follow all Delta State news at www.deltastate.edu.