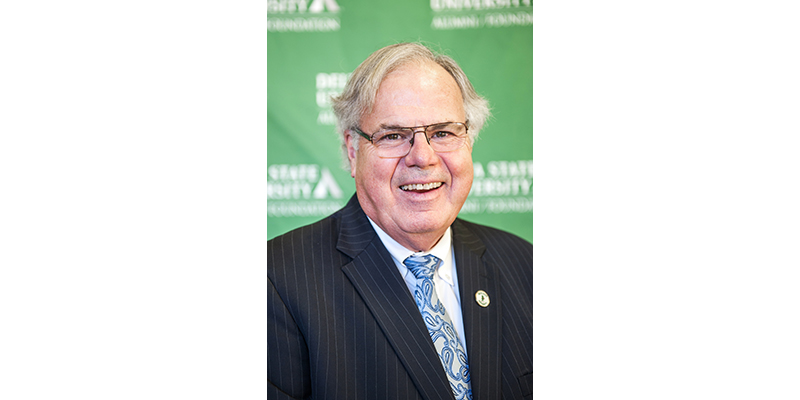 Delta State University recently welcomed Patrick D. Hundley as the interim executive director of the Delta State University Alumni-Foundation.
Hundley took over after former director Keith Fulcher transitioned to the new position of special assistant to the president for donor relations.
He joins Delta State from the REGISTRY for College and University Presidents, an organization that provides experienced higher educational professionals on an interim basis. University and Foundation officials will conduct a search later in the year for a permanent executive director.
"I could not be more pleased with the welcome that I have received here," said Hundley. "The entire staff of the Foundation and Alumni division has been wonderful, with each person reaching out to do all in his or her power to assist me. I hope to provide the kind of leadership during my short tenure here that will position this excellent staff to be even more successful in the future.
"Furthermore, President LaForge is totally committed to see that Delta State University reaches a next level of greatness, and I am finding that working with him is a real honor and privilege. Delta State and its development and alumni programs are in great hands. The future is very bright."
Hundley is a native of Jackson, Tennessee. He received a bachelor's in English from Tennessee Wesleyan College, a master's in English from Middle Tennessee State University, and an ABD in English from Oklahoma State University.
He has 35 years of experience in university advancement, including serving as assistant chancellor at University of Wisconsin Platteville, vice president at Minnesota State University Moorhead, and vice chancellor at Southern Illinois University Edwardsville.
"I am very pleased that Patrick Hundley has joined our alumni-foundation staff as a consultant, and I look forward to working with him during this transition period," said President William N. LaForge. "He brings a wealth of skills and knowledge in the foundation, development, and alumni fields at several universities, including many very similar to Delta State in size and character."
Short-term, Hundley's primary focus is to raise more private funds for the betterment of the university. One goal, he said, was to raise the percentage of alumni who contribute from 7.8 percent to 15 percent.
"We must identify more potential donors among our alumni and friends, and we must get out and see these people, taking the message of Delta State's importance in educating the best and the brightest for our region and our nation," he said.
Additionally, as an interim director, Hundley said he hopes to have everything in place so that the next director can hit the ground running to raise funding for Delta State.
"Next year will be the first year when tuition income is greater than the funds provided by the state for the university," said Hundley. "Therefore, private funds become more important as we keep this great University affordable for our students now and in the future. We especially need to raise more funds for scholarships and student projects. This will be one of the charges that I will give our staff as we move forward."
Hundley has been married to his wife, Susan, for 42 years. They have three children and three grandchildren.
Follow all Delta State University news at www.deltastate.edu.