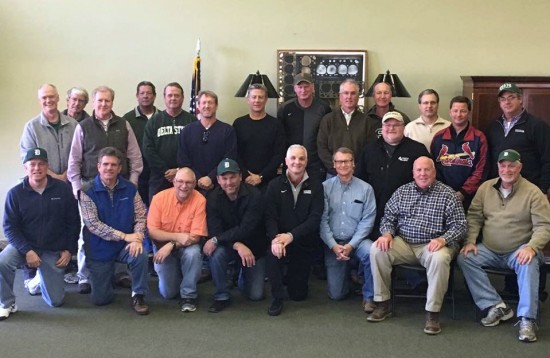 A group of Delta State University baseball alumni recently gathered for a weekend of fun reunion activities on campus.
The group enjoyed lunch downtown with their former coach, the legendary Boo Ferriss, and his wife Miriam.
In between ballgames at Tim and Nancy Harvey Stadium-Ferriss Field, the former Statesmen and their families met at the Hugh Ellis Walker Alumni and Foundation House for food and fellowship provide by a former teammate and the National Alumni Association.
Director of Athletics Ronnie Mayers and Director of Alumni Affairs Jeffrey Farris updated the group on the exciting things happening on campus.
To stay up to date on the Alumni Association's activities, follow these social media sites: Facebook (Statesmen Graduates), Twitter (@DSU_Alumni), Tumblr (http://www.dsualumni.tumblr.com), LinkedIn (DSU alumni), Instagram (dsualumni) and You Tube (dsualumni1). Save the date for this year's Pig Pickin' (Sept. 24) and Homecoming (Oct. 15).