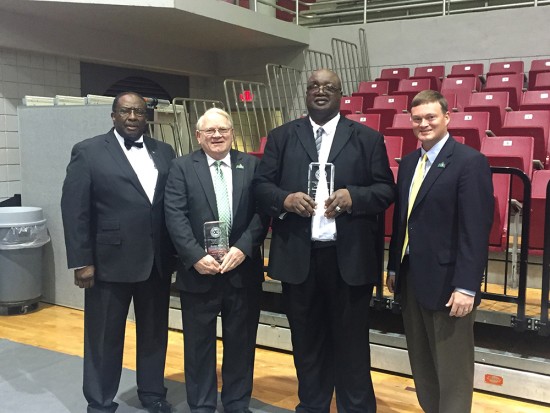 Two Delta State University graduates were inducted into the Clarksdale/Coahoma County Sports Hall of Fame April 2 at the Pinnacle Building of Coahoma Community College. George Crump Miller '71 and James Washington Sr. '86 were both a part of fifth Hall of Fame class.
Miller was a member of the Delta State tennis team from 1967-71, serving as the No. 4 singles player and the No. 3 doubles player. He earned his degree in accounting.
Washington coached basketball at Coahoma Agricultural High School and Coahoma Junior College for 32 years. He obtained his master's in education.
The banquet is in honor of Aubrey Rozell, a member of the Delta State football team and a 1956 graduate. Rozell would go on to play in the NFL for the Pittsburgh Steelers.
Delta State Alumni Director and tennis coach Jeffrey Farris was the featured speaker for the event.
To stay up to date on the Alumni Association's activities, follow these social media sites: Facebook (Statesmen Graduates), Twitter (@DSU_Alumni), Tumblr (http://www.dsualumni.tumblr.com), LinkedIn (DSU alumni), Instagram (dsualumni) and You Tube (dsualumni1). Save the date for this year's Pig Pickin' (Sept. 24) and Homecoming (Oct. 15).