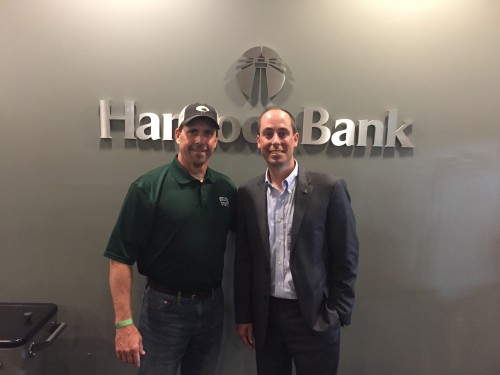 The Delta State Alumni Association recently hosted a pregame party before the Statesmen baseball team played William Carey Univeristy at MGM Park – Shuckers Stadium in Biloxi.
The social was held in the Mercedes Benz Club and appetizers were provided for guests. Over 100 alumni, friends and prospective students attended the event.
Delta State staff members in attendance were: Kara Talley and Sarah Shepherd, admissions recruiters; Jeffrey Farris, director of Alumni Affairs; and Keith Fulcher, executive director of Alumni-Foundation. Andrew "FoFo" Gilich, the mayor of Biloxi, also attended and welcomed the crowd to the Gulf Coast.
Delta State alumnus and former Statesmen Mark Graham '83, of Dallas, Texas, threw out the first pitch to former teammate Steven Tomaszewski '74, of Ocean Springs. The Statesmen defeated William Carey 4-1. The contest was part of a series of 27 college baseball games that will be played at MGM Park.
To view pictures from the event, visit: https://www.flickr.com/photos/dsualumni/albums/72157665909544436. To watch a video clip, visit https://www.youtube.com/watch?v=3H7jp9XbZBo.
To stay up to date on the Alumni Association's activities, follow these social media sites: Facebook (Statesmen Graduates), Twitter (@DSU_Alumni), Tumblr (http://www.dsualumni.tumblr.com), LinkedIn (DSU alumni), Instagram (dsualumni) and You Tube (dsualumni1). Save the date for this year's Go Green Weekend (April 2), Pig Pickin' (Sept. 24) and Homecoming (Oct. 15).