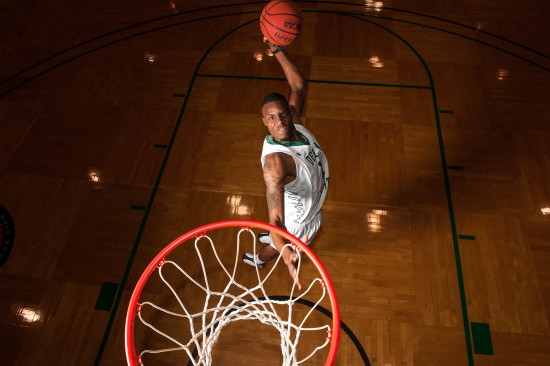 Small school — big hops. That's what some college basketball fans were saying after Statesman senior LaQuavius Cotton brought down the house at the 2015 State Farm College Dunk Championship April 2.
In front of a rocking crowd at Hinkle Fieldhouse — home court for Butler University in Indianapolis, Ind. — and broadcasted for millions to see on ESPN, the 6-foot-6 Cotton showed the world that some of the nation's best athletes perform right here in "small-town" Cleveland, Miss.
Cotton, born and raised in Cleveland, is a 2010 East Side High School graduate and senior transfer from Mississippi College. The talented player with humble roots overcame the nerves of the big stage and shined bright in front of a national audience.
"Walking into that gym was crazy," said Cotton, "I didn't know it was that big, and being in that atmosphere with some of the guys I saw playing on TV a couple weeks ago — it was shocking. To be in the dunk contest period was a blessing."
Through a combination of scores from three highly competitive rounds, Cotton's performance reigned supreme, and he was handed the 2015 championship belt.
"Going into it, I was just happy to be there," he said. "I told myself I'd be happy just to make it out of the first round. Once I got to the second round, I thought man, I've got a chance at winning this, so I'm going to try and take it.
"Winning it all was truly something special. Words can't explain how it felt to take the championship, but it was amazing."
Delta State men's basketball coach Jim Boone was thrilled to see his player dominate the competition.
"We are all so excited for LaQuavius, and to win it all, wow," said Boone.  "I am so proud of how he represented our basketball program, his family and all of our Delta State family. He is a tremendous young man who has worked very hard to develop his game."
His invite to the big show, which included competitors from all three NCAA divisions, came after HoopMixTape.com caught wind of a YouTube video Cotton posted of his dunking ability.
"My video really picked up some buzz when Hoop Mix Tape shouted me out on Twitter and Instagram. They got in contact with some people in charge of the dunk contest, and that's what got me the invite."
Cotton said one of the highlights of the experience was having his parents in the crowd. His father, Leroy, is the athletic director, assistant principal and basketball coach for East Side.
"My dad was my high school coach and he's worked with me on fundamentals and dunking," said Cotton. "He prepped me for the contest. I actually called him during the contest after a couple dunks to see what I should do next."
The victory has brought the champion a swarm of unexpected attention, from calls from a few agents and contacts from multiple oversees teams.
"This opportunity means a lot to me, and I hope it opens some doors for my future in basketball. It's definitely helped with exposure for me. Probably the coolest thing that's happened since I won was another shout out from Hoop Mix Tape and a bio page they created for me."
Despite the instant fame, Cotton is remaining true to his roots.
"I just want to say thanks to Delta State," he said. "To the whole university really — faculty, staff, coaches, the compliance office – everyone really helped me out with this and throughout the year."
So what's next for the high flyer?
"It's hard that my senior year is done. It came to an end really fast, but I've really enjoyed playing at Delta State with all my teammates," said Cotton. "Now it's time to work on my overall game, find an agent and get ready to play professionally.
"I think the dunking is a little behind me for now — until next time, hopefully."
Follow all Statesmen and Lady Statesman athletics at http://www.gostatesmen.com.