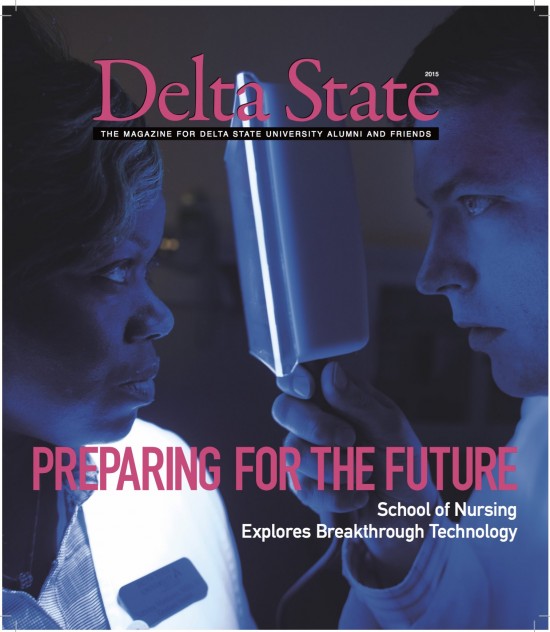 The Fall 2015 edition of Delta State's Alumni and Foundation Magazine is complete and is currently on its way to the homes of Delta State alumni. This edition features the Robert E. Smith School of Nursing on the cover.
The magazine also contains articles on the GRAMMY Museum Mississipp, the recent trip of Delta State students, faculty and staff to Perm, Russia, the baseball stadium renovations, including the Dave "Boo" Ferriss statue, and much more. Alumni and friends are also able to keep up with fellow classmates in the "with the classes" section.
"Because the Delta State Alumni and Foundation Magazine is the only publication that gets sent out to alumni, donors, and students, we work hard to ensure that we encompass all areas and interests of campus," said Jordan Thomas, editor. "I am so excited for this issue to hit homes. It's one of our best issues to date."
The Delta State Magazine is mailed to over 32,000 homes of alumni, friends, students, faculty and staff nationally twice a year.
To view the Magazine online, go to http://issuu.com/deltastateuniversity/docs/dsu_2015_magazine_web_2/1.  To update your information, visit www.deltastategiving.org/alumniassociation/updateyourpersonalinformation.
The official hashtag for the 2015 Homecoming is #DSUHC15. For more information, contact the Alumni Association at 662-846-4660. To purchase tickets to the Alumni Awards Gala, contact the association at 662-846-4660 or http://www.deltastategiving.org/alumniassociation/homecoming2015.
To stay up to date on the Alumni Association's activities, follow these social media sites: Facebook (Statesmen Graduates), Twitter (@DSU_Alumni), Tumblr (www.dsualumni.tumblr.com), LinkedIn (DSU alumni), Instagram (dsualumni) and You Tube (dsualumni1).