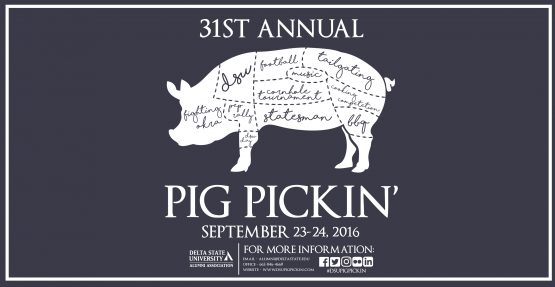 The Delta State University National Alumni Association invites campus, alumni and Delta State supporters to visit www.dsupigpickin.com in preparation of the 31st annual Pig Pickin.'
Visitors to the site can purchase BBQ tickets, sign up for the cooking competition, enter the second annual cornhole tournament, register to volunteer, purchase the event's official T-shirt, and become an event sponsor.
The schedule is full of activities for Delta State alumni and friends of any age to enjoy. Activities kick off Sept. 23 leading into the main schedule on Sept. 24. Immediately following Pig Pickin' festivities, the Statesmen football team will compete against Shorter University at 6 p.m.
BBQ or sausage dog tickets can be purchased for $6 at the Alumni House or www.dsupigpickin.com. Patrons who pre-purchase tickets by Sept. 16 at 5 p.m. will be entered in a drawing sponsored by the Delta State Foundation to win a Yeti cooler. A limited amount of food tickets will be available for purchase. This year, the Alumni Office will offer 1,000 plates to be purchased.
The traditional Pig Pickin' t-shirts are $15 for short sleeve and $20 for sizes 2XL and up. Current shirt colors include chili, denim and grass. To purchase a shirt, visit the Alumni House and speak to MK DeWeese, senior alumni secretary.
Stay updated on Pig Pickin' announcements by joining the official Facebook event page at https://www.facebook.com/events/1168155446577403/. The official hashtag of Pig Pickin' is #DSUPigPickin.
To purchase Pig Pickin' tickets, click here, or to make a contribution to an annual scholarship, click here.
For more information, contact the Alumni Association at 662-846-4660.  To stay up to date on the Alumni Association's activities, follow these social media sites: Facebook (Statesmen Graduates), Twitter (@DSU_Alumni), Tumblr (http://www.dsualumni.tumblr.com), LinkedIn (DSU alumni), Instagram (dsualumni) and You Tube (dsualumni1). Save the date for this year's Pig Pickin' (Sept. 24) and Homecoming (Oct. 15).