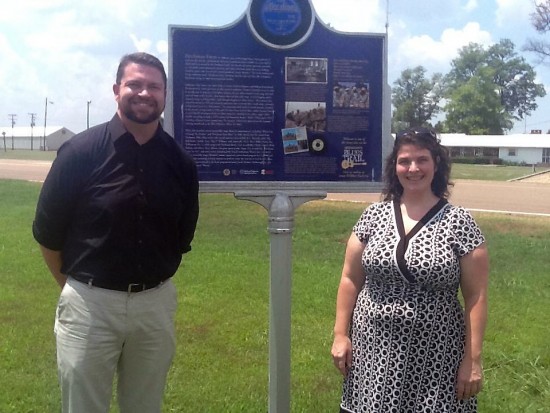 One recent Delta State graduate shined brightly last summer while working with imprisoned students at the Mississippi State Penitentiary in Parchman.
Jenni Owen, who completed her Liberal Studies Master of Arts in English with a focus on criminology in May of 2015, had the unique opportunity of participating in the groundbreaking Prison-to-College Pipeline Program at Parchman.
Owen became the program's instructional associate through the help of Dr. Chuck Westmoreland, assistant professor of history at Delta State. Westmoreland put her in touch with the program's leaders, Dr. Otis Pickett, assistant professor of history at Mississippi College, and Dr. Patrick Elliot Alexander, assistant professor of English and African American studies at the University of Mississippi.
The two professors were leading the new 10-week course on the civil rights movement to a group of students imprisoned at Parchman. During the course, students learned about a number of civil rights leaders, including Fannie Lou Hammer, who is remembered for her roots in nearby Ruleville.
The course also provided essential guidance in the rehabilitation and assimilation of imprisoned students into the general civilian population once their sentences are served.
"It was amazing getting to know the gentlemen in the facility," said Owen. "Many of them had a strong passion for education, and I was grateful for the opportunity to get to know the men as individuals.
"The highlight of my experience was when I was able to work with the men one-on-one and assist them with their writing, or help tailor solutions to their specific needs," she added. "For example, there was one student who had a hard time seeing words when reading, so I tried to write notes for him in a larger font so he could read the documents more easily.
"There was another student interested in writing poetry, so I brought Natasha Trethewey's 'Native Guard' to share with him. Also, after my first session, I saw the eagerness of the men to learn, so I asked friends and family for donations and we were able to purchase a book for the gentlemen to continue reading once the course was through."
Owen, who now works as an adjunct instructor of English at Holmes Community College in Yazoo City completed her undergraduate internship at the Stark County Sheriff's Office in Ohio and wrote her thesis on officer communication in domestic violence situations. Thus began her interest in the criminal justice system.
When she began her studies at Delta State, she learned about bibliotherapy or therapeutic reading programs. Owen, with her criminology background, focused on how literature can help rehabilitate those who are incarcerated. This interest made her a qualified candidate to help with the Parchman program.
"The Prison-to-College program taught me to have more confidence in myself and my abilities," said Owen. "The students were so grateful that I was there. At first I was a bit intimidated to be working with such respected professors, and was concerned that I wouldn't be able to bring anything to the class, but by being genuinely me, I found that I could contribute and help the students.
"I also learned about some of the real struggles the students were going through. They were taking a college level class during the hottest months of the year, but they were still doing their best to complete their reading and writing assignments. The students put in so much effort to be able to participate in the class. Their dedication was amazing."
Westmoreland said Owen's commitment to the criminal justice system is just one of her strong points.
"Jenni has a strong commitment to helping others, and because of that, we are very proud of her work with the Prison-to-College Pipeline Program," said Westmoreland. "As a student in the Master of Arts in Liberal Studies program, Jenni approached her work with a clear sense of mission and purpose. She wanted to integrate her passion for literature and the English language with a desire to help incarcerated people. Thanks to the wide variety of graduate courses offered in English and criminology, she was very prepared to work with the students in the pipeline program.
"She has done great work and will continue to make a positive impact on people who are too often forgotten in our society," he added.
As the program continues to grow, Owen fully intends to remain involved.
"I'm currently planning on participating in the program at Parchman again this coming summer with Dr. Alexander and Dr. Pickett," she said. "I look forward to assisting more with the educational aspect of the program and helping the students increase their writing skills."
Owen said she will also help as the program plans to expand to the Central Mississippi Correctional Facility in Pearl under the leadership of Pickett and Dr. Stephanie R. Rolph, assistant professor of history at Millsaps College.