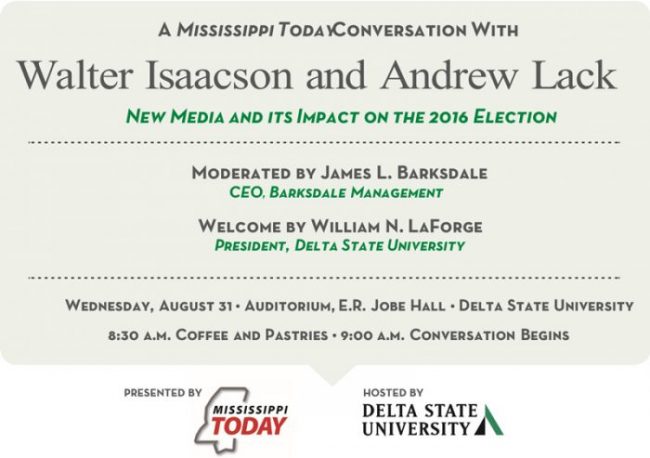 CLEVELAND – Delta State University is hosting a Mississippi Today panel discussion Aug. 31 on New Media and Politics featuring NBC News Chairman Andrew Lack and Aspen Institute president and CEO Walter Isaacson.
The conversation between Lack, founder of Mississippi Today, and Isaacson, author of several celebrated historical books, is part of a two-day celebration and outreach to the Delta region about the Mississippi Today story.  Lack and Isaacson will discuss how the rise of New Media has impacted the 2016 presidential election.
Mississippi Today is inviting Delta residents to join in celebrating the news organization's launch at a no-cost business casual public reception Aug. 30 at the Grammy Museum Mississippi beginning at 6 p.m.
Mississippitoday.org, is a digital-only nonpartisan news site that launched on March 28 and has aggressively and objectively covered state and local government affairs and community issues, as well as Mississippi's social culture, including sports coverage by celebrated columnist Rick Cleveland. The news operation is committed to covering issues and events across the entire state, including the Delta region.
The panel discussion hosted by Delta State University will be held in the auditorium of E.R. Jobe Hall. The event will begin with coffee and pastries at 8:30 a.m., with the panel discussion beginning at 9 a.m.
Delta State University President William N. LaForge will introduce the panel, which will be moderated by Jim Barksdale, CEO of Barksdale Management. Barksdale serves on the board of Mississippi Today.
Lack, now chairman of NBC NEWS, chose Mississippi for the site of this innovative approach to news coverage largely because of his family ties to the Delta running back through several generations. His great-grandfather was the mayor of Greenville.
"All of us involved in this project have great aspirations for Mississippi's future, and believe that competitive, world-class journalism is an essential piece of that puzzle," Lack said.
Isaacson, a New Orleans native, leads the Aspen Institute, a nonpartisan educational and policy studies institute based in Washington, D.C. His most recent book, The Innovators: How a Group of Hackers, Geniuses, and Geeks Created the Digital Revolution (2014) is a biographical tale of the people who came up with the great innovations of the digital age. Among his other books are Steve Jobs, Einstein: His Life and Universe and Benjamin Franklin: An American Life.
The Mississippi Today Conversation is free and open to the public. For more information, visit www.deltastate.edu/mstodayconversation.
Access to MississippiToday.org is free and its stories are meant to be shared through social media and with other news organizations. The organization is committed to providing wide-ranging coverage presented by a diverse staff of journalists.
The news venture is co-edited by Fred Anklam Jr. and Dennis Moore, award-winning journalists with long ties to Mississippi who have returned home to help bring this innovative news coverage to the state.
"The chance to do public service journalism in a digital format in my home state made the decision to join Mississippi Today a no-brainer," Anklam said. "We are already seeing a great response to our reporting efforts from our state residents and those interested in Mississippi."
Mississippi Today is the public arm of Mississippi News and Information Corp., a nonprofit corporation established in 2014. The launch of Mississippi Today was realized through grants from the John S. and James L. Knight Foundation, the Ford Foundation and through the generous support from individual donors, including Lack.
Mississippi Today also is committed to helping develop the next generation of distinguished journalists who reflect the state's diversity by recruiting exceptional graduates of journalism, communications and public policy programs and by working with current students in the state's colleges and universities to develop skills that will prepare them for productive careers.
"The team at Mississippi Today is focused on informing residents about state and local government, education and poverty.  Their journalism has the potential to increase civic engagement, by making Mississippians more aware of how government action or inaction affects their lives," said Karen Rundlet, program officer for journalism at Knight Foundation, the nation's leading funder of journalism and media innovation.
Support for continued operation of Mississippi Today comes from sponsors, donors, advertising and Mississippians Together, our annual fund that unites readers from different backgrounds who share an interest in meeting challenges facing the state.