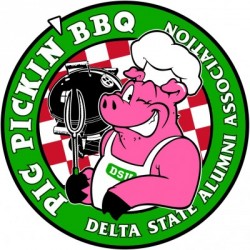 The Delta State University Alumni Association has once again invited members of the Legacy Program back to Pig Pickin', hosted on campus Sept. 18-19.
Each child enrolled in the Legacy Program was mailed a postcard inviting them to the annual Pig Pickin' festivities. Legacies can request a free Pig Pickin' barbecue ticket from the Alumni Association. There will also be a "Legacy Tent" at Statesmen Park. The Statesman and Okra will visit the tent to take pictures from 1-2 p.m. All members of the Legacy Program and their families are invited to attend.
The Alumni Association launched the program to get younger fans interested in Delta State at an early age. The definition of a legacy is any child fortunate enough to have a parent, grandparent or legal guardian who is a graduate or friend of Delta State.
So far, over 3,000 children up to the age of 18 have enrolled in the program. The Alumni Association will begin sending Legacies age appropriate Delta State themed items in the mail in January of 2016.
The official hashtag for Pig Pickin' is #DSUPigPickin. For more information, contact the Alumni Association at 662-846-4660. Join the Facebook event at Statesmen Graduates:https://www.facebook.com/events/872293072848213/. To stay up to date on the Alumni Association's activities, follow these social media sites: Facebook (Statesmen Graduates), Twitter (@DSU_Alumni), Tumblr (www.dsualumni.tumblr.com), LinkedIn (DSU alumni), Instagram (dsualumni) and You Tube (dsualumni1).