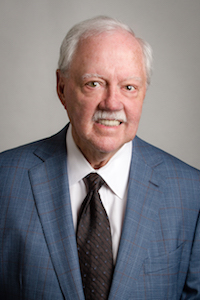 Delta State University will continue its tradition of recognizing green and white greatness by conferring an honorary doctoral degree at fall commencement ceremonies Dec. 9.
Delta State confers the honorary degree to individuals who have made significant and meritorious contributions to the university, higher education generally or other areas of society. Achievements can include, but are not limited to, outstanding creative and scholarly work, distinguished leadership or service, significant accomplishments or exceptional philanthropic support.
Receiving the honor will be Percy Malone, who attended Delta State in 1960 and was named the university's Outstanding Alumnus of the Year for 2017.
"Senator Percy Malone is a most-deserving honorary degree recipient," said Delta State University President William N. LaForge. "It is customary for universities to bestow honorary degrees, and they are intended to do just that — honor the recipient for distinguished service, accomplishments, successes and contributions to society. Sen. Malone is the ideal candidate for this honor. His record of community service and leadership is enviable. And he credits Delta State with providing him the basic science education to launch his professional school, and later, his business, successes. He is a leader who cares about people and who has demonstrated, time and time again, his commitment to human and civic causes."
Malone, who was raised in a humble upbringing in Rosedale, Mississippi, credits his time in the classroom at Delta State as paving his way to pharmacy school, and then to eventually becoming a representative and senator in Arkansas.
Long before he sat in his senate and representative seats in the Arkansas legislature, long before he established a chain of pharmacies across Arkansas, and long before he traveled to Oxford to learn his vocation, he sat in classes at Delta State soaking up the knowledge and wisdom from several teachers that would influence him the rest of his life.
"I had a professor in physics – Dr. Wiley – he took a special interest in his students," Malone said. "It was an affordable school, and when I got out, I was prepared for pharmacy school at Ole Miss."
"This is a great honor from a school that helped me get out of poverty," Malone said in a previous press release about being named Outstanding Alumnus of the Year. "I have fond memories of being able to go to Delta State. It was a hand out and not a hand up."
After receiving his pharmacy degree in 1965, Malone began working with I.B. Fuller in Arkadelphia, Arkansas. Fuller became a mentor for Malone's community involvement, which has ranged from serving on the board of directors of the Arkadelphia Chamber of Commerce, to serving as a delegate to the Arkansas Constitutional Convention in 1980. He was also a member of the state Board of Pharmacy.
His political career began in 1995 when he was elected to represent District 36, which he did until 1999. In this capacity, he served as co-chairman of the joint budget committee and as a member of the insurance and commerce committee, the public health and welfare committee, and other important committees and subcommittees. Malone's stint in the state senate ran from 2001-2012.
President LaForge said Delta State has bestowed fewer than 20 honorary degree's in the institution's history, acknowledging the significance and prestige of Malone's degree.
To follow all Delta State news, visit www.deltastate.edu.