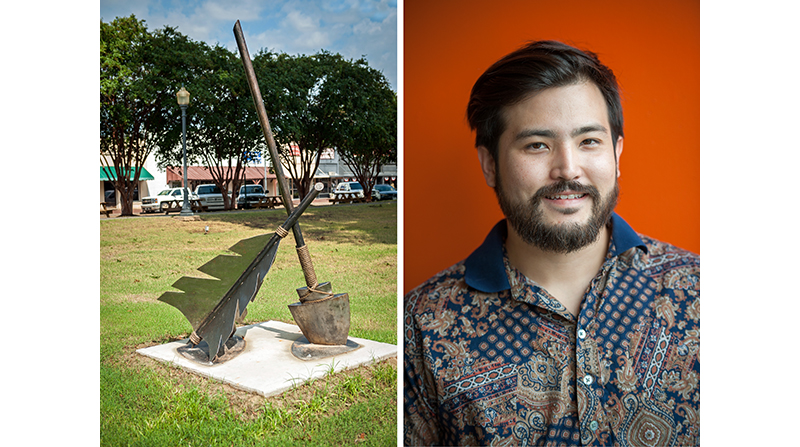 Visitors to downtown Cleveland are enjoying the recent expansion of Delta State's Hazel and Jimmy Sanders Sculpture Garden with five new installations along Sharpe Avenue.
One sculpture holds special meaning thanks to the creative work of recent Delta State graduate Lawson King '17, an art major originally from Indianola.
His 8-foot steel and recycled rope sculpture "Broken Arrow" stands tall in dedication to former Delta State professor Dr. Ethan Schmidt, who fatally fell victim to gun violence in 2015.
"I dedicated the piece to him because his shooting caused me to react — caused me to respond to the traumatic experience," said King. "The more I found out about the shooting, the more I felt connected to it."
King found many similarities to the incident after his father was killed in a shooting at the age of three. King also taught with Schmidt's wife at a local elementary school through his participation in the Delta Arts Alliance's artist-in-residence program.
"It was personal for me to create this piece, but I also wanted to do it for Ethan's wife and his kids," said King. "I wanted to show them that I was three when my father was killed, and I think I turned out alright."
Michael Stanley, chair of the Delta State Department of Art, was thrilled with King's dedication, noting that he was the first student/alumni to have work displayed in the sculpture garden.
"Lawson's piece is a very powerful tribute to Dr. Ethan Schmidt because he elegantly intertwines a number of very complicated ideas into one sculpture," said Stanley. "The broken arrow is a symbol that represents peace and also refers to Ethan's expertise in Native American history. It's also a direct reaction to the events that took place the day of the shooting. Instead of using an image of violence, Lawson chose an image of peace, which is much more powerful in my opinion."
The sculpture garden has developed into an iconic element of Delta State's campus, and it has shown growth in recent years while expanding across the university, to the grounds of GRAMMY Museum® Mississippi, and downtown Cleveland.
Judson Thigpen, executive director of the Cleveland-Bolivar County Chamber of Commerce, said the sculpture garden's development continues to forge the town-gown relationship.
"The sculptures are a continuation of the Hazel and Jimmy Sanders Sculpture Garden at Delta State into the community," said Thigpen. "It's an added treasure that one of the sculptures is dedicated to the life of Ethan Schmidt and the lives he touched while here."
Stanley agreed that the expansion of the sculpture garden strengthens the partnership between the university and the city of Cleveland.
"We cannot survive without the other, and this is a wonderful display of cooperation and a great visual reminder of this unique relationship," he said.
Public sculpture was a big reason King pursued his art degree, as he felt public art was lacking in his hometown. The facilities in the art department make it possible for students to create large-scale public works.
King said it was an incredible honor to be selected in the first group of downtown sculptures.
"It feels like such a big accomplishment for me," he said. "It's awesome to be included with super talented sculptors from across the country. Just to be accepted and be among them in the first round of downtown sculptures — it means a whole lot to me."
Learn more about the Hazel and Jimmy Sanders Sculpture Garden at http://thesculpturegardenms.com/.