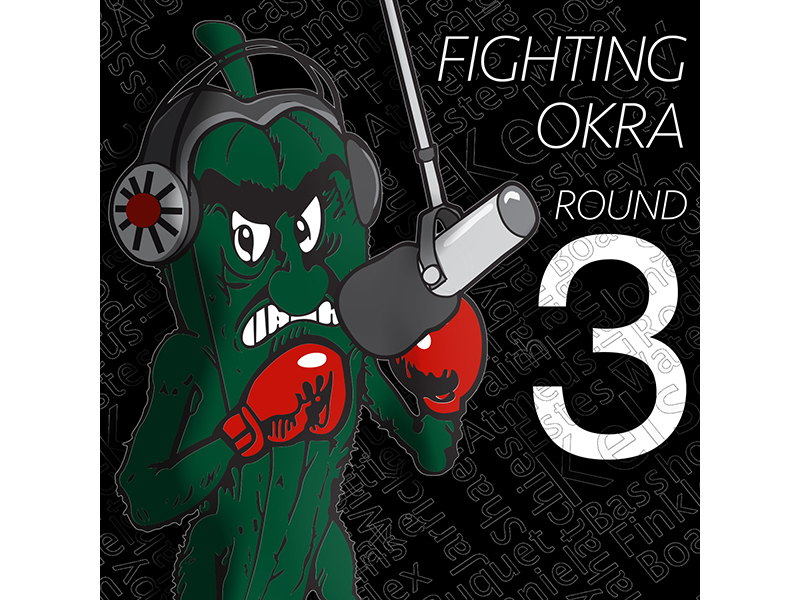 Fighting Okra Records, a student-run record label housed in the Delta Music Institute entertainment industry program at Delta State University, recently released its third compilation CD project, "Fighting Okra: Round 3," featuring 17 tracks of original music either written, produced or recorded by DMI students.
The new Fighting Okra project was the culmination of a senior project by DMI graduate Jarrick Finkley during the fall of 2015. In a continuing effort to expose the music of DMI students to the campus and community, Finkley decided to assemble a third compilation CD to expose the depth of talent of DMI students.
"Fighting Okra: Round 3" contains 17 original works representing a wide range of genres including hip-hop, gospel, alternative, R&B, dub step, rock, metal, and country. The songs on the project were written, produced, engineered or performed by current DMI students and alumni, with Finkley serving as executive producer. Songs on the CD were selected by Finkley after multiple screenings and were chosen on the basis of lyrical content and recording quality.
"I loved working on Fighting Okra Round 3," said Finkley, a native of Vicksburg. "It was a big challenge, but the project allowed me to learn so much within a cooperative work situation. I am grateful to every student artist and engineer who contributed their awesome gifts and talents to this project."
DMI Director Tricia Walker served as the faculty advisor for the project.
"The lessons students like Jarrick learn in working on a real-world project like this are invaluable," said Walker. "I'm very proud of what he's put together on this CD. It really does represent the breadth and depth of the talent coming out of DMI."
Copies of the CD will be available for purchase in the main office of the DMI on campus and online at www.fightingokrarecords.com. For more information on the album or the FOR label, contact the DMI at 662-846-4579 or visit www.fightingokrarecords.com.
The DMI is an independent center of study under the College of Arts and Sciences at Delta State, offering a bachelor's degree in entertainment industry studies. The focus of the DMI is to provide students with a broad and thorough education in the technological, creative and business areas of the music and entertainment industry. For information, contact 662-846-4579 or visit http://dmi.deltastate.edu.