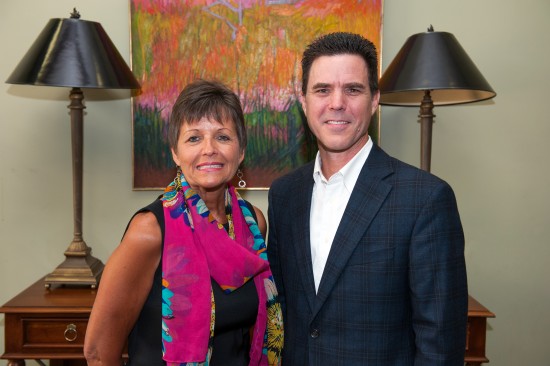 Paul Hankins was recently honored for his years of service as the interim dean of Delta State's College of Arts and Sciences. Colleagues and campus leaders gathered for a celebratory social in President William N. LaForge's conference room to thank Hankins for his dedication.
Hankins served in the interim role for four years following the leadership of Collier Parker. Hankins now returns to the Department of Music where he will serve as department chair.
"We are very grateful to Dr. Hankins for his dedicated service as interim dean of the College of Arts and Sciences over a four-year period," said LaForge. "He served in this position very well and often faced difficult challenges.
"I appreciate his commitment to Delta State and certainly welcome him back as chair of the Department of Music."
Delta State Provost Charles McAdams echoed LaForge's praise for Hankins.
"Delta State was fortunate to have someone as capable as Dr. Paul Hankins to serve as interim dean of the College of Arts and Sciences the past four years," said McAdams. "He was a great advocate for all areas of the college, and his understanding of institutional history provided a strong foundation for the service he provided Delta State. Leading a college as diverse as Arts and Sciences is a challenge, but Dr. Hankins led the college with his characteristic calmness, grace and dignity.
"He is a real asset to Delta State and I am pleased he will continue to provide great leadership for the Department of Music."
The university recently concluded a national search for the college's new leader. Beginning this month, David Breaux, previously of the University of Louisiana at Lafayette, takes over as the college's new dean.
Breaux was a professor of political science at ULL, where he once served as graduate school dean. Prior to ULL, he taught in the Department of Political Science and Public Administration at Mississippi State University from 1989-2011.
The community of learners in the College of Arts and Sciences is composed of approximately 115 faculty, 1,250 undergraduate majors and 100 graduate majors. The college takes great pride in the quality and value of its educational programs. Students are encouraged to develop their talents in courses that improve communication, analytical thinking and problem solving.
"In striving for an environment in which everyone feels welcomed and appreciated, we provide the opportunity for significant intellectual, cultural and social growth," Hankins said.
Also recognized in a recent retirement ceremony was Bert Herbison, who served as Hankins' administrative secretary during his four years as dean. Herbison previously spent 20 years as the secretary for the Department of Art. She is retiring after a fulfilling 24-year career at Delta State.
"It was a pleasure to work with Dr. Hankins for four years," said Herbison. "He is a consummate professional and I wish him all the best in his future endeavors.
"I loved what I did at Delta State all those years, but I am ready to sit back and enjoy the rest of my life with my husband."
Learn more about the college at http://www.deltastate.edu/college-of-arts-and-sciences/.