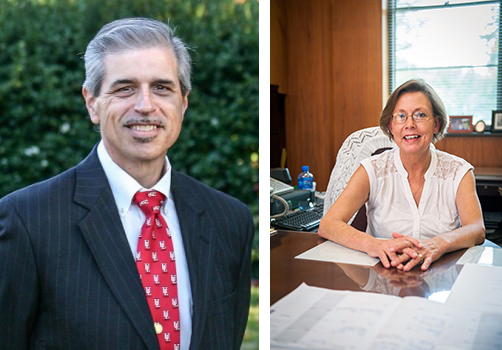 Delta State University welcomes Dr. David Breaux as the new dean of the College of Arts and Sciences. Joining him as his administrative secretary is Margaret McClain.
The announcement of Breaux's hiring was made in March and he began his duties July 1. Breaux takes over for former interim dean Dr. Paul Hankins, while McClain replaces Bert Herbison, who worked at the university for 24 years.
"I'm excited to be at the university and have the opportunity to be the dean of the College of Arts and Sciences," said Breaux. "I think Delta State and the college have a number of programs to consider as niche and signature programs to help attract students.
"The transition has gone as well as I think it could, and I thank Paul Hankins for being extremely helpful while working with me."
Breaux was previously a professor of political science at University of Louisiana at Lafayette, where he once served as the graduate school dean. Prior to ULL, he taught in the Department of Political Science and Public Administration at Mississippi State University from 1989-2011.
His principle areas of teaching are American electoral politics and institutions, and research methods. Breaux earned his doctorate in political science at the University of Kentucky and master's in political science from the University of New Orleans.
Delta State Provost and Vice President for Academic Affairs, Dr. Charles McAdams, said in a previous press release the administration is looking forward to bringing Breaux on board.
"Dr. Breaux has the experience and positive outlook we are looking for to lead our College of Arts and Sciences," said McAdams. "Faculty and students were impressed with his knowledge of the area, his experience and his sense of how best to move the college and Delta State forward."
McClain, who has a long history with Delta State, is also thrilled to be back on campus.
"I'm so excited to be back at Delta State, and mainly, that's because it's like family here," said McClain. "Working with the students is what I look forward to most — I love to interact with them. That's why we work here."
Originally from Virginia, McClain has lived in the Delta for 32 years. Her Delta State career began in 1989 as the secretary for the Food Services director. She also worked with Linda Ross and Dr. Steve Stanford in the H.L. Nowell Student Union. Most recently, she worked in the Department of Athletics until 2005.
Both Breaux and McClain acknowledged they have worked well together in the early stages, each providing support for the other.
"I think it's a positive that we're both in new positions and we can learn at the same time," said McClain. "It will be good for both of us."
Learn more about opportunities with the College of Arts and Sciences at http://www.deltastate.edu/college-of-arts-and-sciences.