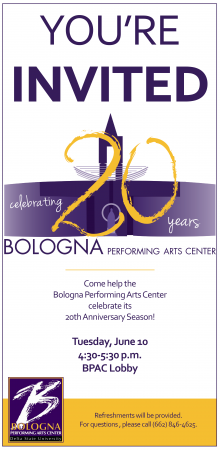 The Bologna Performing Arts Center proudly announces the kickoff to its 2014-15 season on June 10. All are welcome to celebrate the center's 20th anniversary season from 4:30-5:30 p.m. in the Bologna Center lobby. Refreshments will be provided, and patrons can learn more about the exciting array of programs slated to arrive next year.
The BPAC was built in 1994 and held its inaugural season from 1995-96. Since then, the BPAC has presented the best in arts and entertainment to the Mississippi Delta and surrounding area. Performances typically range from Broadway musicals, concerts, plays, dance and children's productions, and are presented by the best national and international touring companies.
For more information, call the BPAC at 662-846-4625 or go online at www.bolognapac.com.