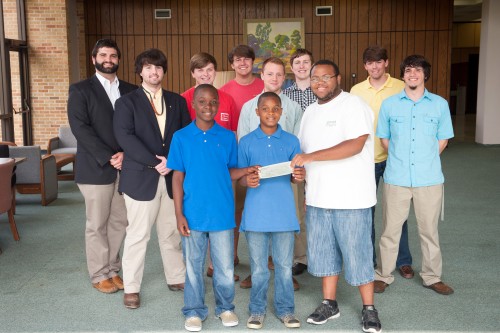 The Delta State University Interfraternity Council recently presented a check to cover the fees for two children to attend the College of Education & Human Sciences' Okra Kids Camp this summer.
The recipients were Javari and Jabari Stewart, the twin sons of Tarnisha Smith, senior secretary for student life at Delta State.
"I was extremely surprised that the IFC honored my childen," said Smith. "It really made me feel part of the Delta State family — knowing people on campus want to do something for me and my children."
The Interfraternity Council is the governing body composed of representatives for each of the following fraternities at Delta State University: Kappa Alpha Order, Kappa Sigma, Phi Mu Alpha Sinfonia, Pi Kappa Alpha and Sigma Alpha Epsilon. The primary goal of IFC is to promote and portray the values of every chapters' foundation and to promote excellent interfraternal spirit and support.
Recent IFC service projects include tornado victim relief, campus blood drives and numerous fundraising events.