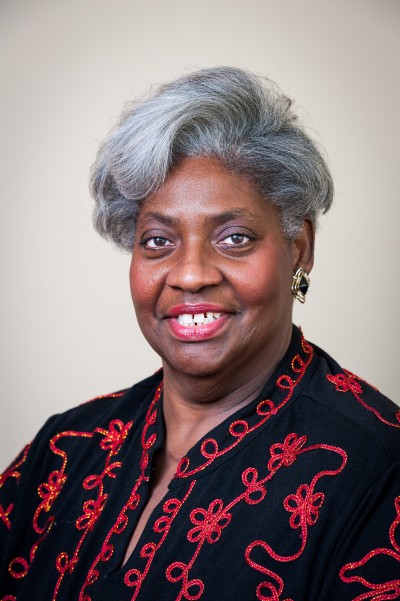 While her list of accomplishments is already lengthy, Lady Statesmen basketball legend Lusia "Lucy" Harris-Stewart added another milestone to her résumé at Delta State University's spring commencement ceremony today.
Harris-Stewart was granted an honorary doctoral degree as part of Delta State's long-running tradition of recognizing green and white greatness.
Delta State University confers the honorary degree to individuals who have made significant and meritorious contributions to the university, higher education generally or other areas of society. Achievements can include, but are not limited to, outstanding creative and scholarly work, distinguished leadership or service, significant accomplishments or exceptional philanthropic support.
"I'm very honored to be receiving this degree — very, very honored," said Harris-Stewart. "I'm looking forward to having the chance now to visit with fans, teammates and all of my family.
"Delta State has certainly been a learning experience for me. It's given me the chance to do a lot of things and travel to a lot of places. Through basketball, I've been able to travel internationally."
Harris-Stewart, a native of Minter City, Miss., graduated from Amanda Elzy High School in Greenwood. She received a Bachelor of Science in Education degree in health, physical education and recreation in 1977 and a master's degree in education in 1984, both from Delta State.
While Harris-Stewart proved her academic abilities in the classroom, her international distinction comes from her career accomplishments on the court. Considered one of the greatest centers to ever play women's basketball, she was relentless and dominating in her style of play.
She is also considered one of the pioneers of women's basketball, winning three consecutive national championships at Delta State under Hall of Fame coach Margaret Wade. She also holds the distinctions of scoring the first ever points in women's Olympic basketball history, and being the first woman to be officially drafted by a team in the National Basketball Association.
"I have a lot of memories at Delta State," she said. "One of the highlights was playing in a game at Madison Square Garden. I think it was the first time a Mississippi team played there. It was a very unique opportunity to travel to New York and play in the Big Apple."
After graduating, Harris-Stewart served as an admissions counselor and assistant basketball coach. She also had a two-year stint as head coach at Texas Southern University in Houston. Upon returning to her native Mississippi, she worked as a high school teacher and coach.
For her achievements and contributions to Delta State University, Harris-Stewart was inducted into Delta State University's Sports Hall of Fame in 1983 and the Mississippi Sports Hall of Fame in 1990. In 1992, she became one of the first two women ever inducted to the Naismith Memorial Basketball Hall of Fame. She also became the first African-American woman inductee.
In 1998, Harris-Stewart, along with Coach Wade and her teammates on the national team, were named among the 26 inaugural inductees to the Women's Basketball Hall of Fame in Knoxville, Tenn. She has also been named to the International Women's Sports Hall of Fame.
Her career has brought her literally around the world, providing opportunities never imagined growing up in small-town Mississippi.
"I encourage the students of Delta State to continue to dream," she said. "Dreams come true if you work hard. I learned that at Delta State. I want to say a big thank you for this honorary degree. I'm very honored by this prestigious recognition."