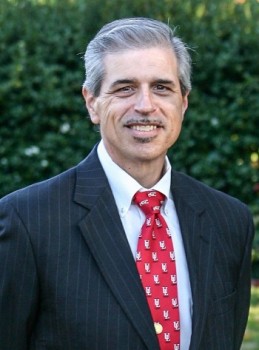 After a national search, Dr. David Breaux of the University of Louisiana at Lafayette has been selected as the new Dean of the College of Arts and Sciences at Delta State University. He will begin his duties on July 1.
Breaux is a professor of political science at ULL, where he once served as Graduate School Dean. Prior to ULL, he taught in the Department of Political Science and Public Administration at Mississippi State University from 1989-2011.
His principle areas of teaching are American electoral politics and institutions, and research methods. Breaux earned his doctorate in political science at the University of Kentucky and master's in political science from the University of New Orleans.
"I am honored and humbled by my selection as the new Dean of the College of Arts and Sciences at Delta State University," said Breaux. "The opportunity to be part of Delta State's leadership team, under the direction of President LaForge and Provost McAdams is extremely exciting.
"In my new position, I will commit myself fully to the fundamental principle of providing our students with the best educational experience possible. I look forward to working hand-in-hand with department heads and faculty within the College of Arts and Sciences to make sure that our students are offered a relevant and rigorous curriculum, so that when they leave with their Delta State degrees that they possess the qualities and skills necessary to not only succeed in their chosen careers, but to also be leaders in their workplaces and communities in which they live."
Provost and Vice President for Academic Affairs Dr. Charles McAdams was pleased to announce the selection after receiving his recommendation from a search committee comprised of Delta State faculty and staff.
"Dr. Breaux has the experience and positive outlook we are looking for to lead our College of Arts and Sciences," said McAdams. "Faculty and students were impressed with his knowledge of the area, his experience and his sense of how best to move the college and Delta State forward. I am excited about his joining our administration."
Breaux has published articles in various peer-reviewed academic journals, including "Legislative Studies Quarterly," "American Politics Quarterly," "American Review of Politics" and "Public Administration Review." He has also written numerous book chapters on political party activists, state politics and policy and Southern politics. Breaux is the recipient of various research grants, including three awarded by the prestigious National Science Foundation.
The search committee, chaired by Dean Emeritus Dr. Butch Caston, reviewed applications in late 2013 and early 2014 before narrowing the list to two candidates. After interviewing the top candidates, all faculty and staff had the opportunity to provide their input to McAdams.
Members of the search committee included: E. E. "Butch" Caston, chair; Kim Rushing (Art); Ellen Green (Biological/Physical Sciences); Chuck Smithhart (Biological/Physical Sciences); Tricia Walker (Delta Music Institute); Yongqin Zhang (Geospatial Information Technology); Georgene Clark (Languages/Literature); Don Allan Mitchell (Faculty Senate); Rose Strahan (Retired, Dedicated Statesmen Association, Mathematics); Bret Pimentel (Music); Mark Butler (Music); Cora Jackson (Social Work); Ethan Schmidt (Social Sciences/History); Paulette Meikle-Yaw (Social Sciences/History); Jeff Slagell (Library); and Myrtis Tabb (Ex Officio, Human Resources).