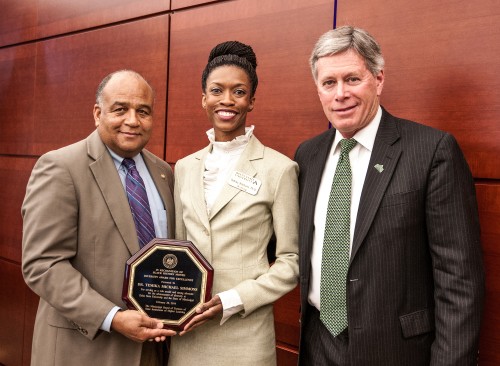 The Board of Trustees of State Institutions of Higher Learning gathered on Feb. 20 to celebrate February's Black History Month by honoring faculty and staff from Mississippi institutions.
The board has been commemorating Black History Month since 1992 with awards that recognize the achievements of university faculty and staff who work to promote diversity and academic excellence on campuses and communities.
Dr. Temika Simmons, assistant professor of psychology at Delta State's College of Education and Human Sciences, was commended for her contributions with the "Diversity Award for Excellence."
Simmons was also praised for serving as a role model and strong advocate of diversity at Delta State and within Mississippi. One individual from each university, including the University of Mississippi Medical Center and Mississippi State University Agriculture Division, is nominated by the president/chancellor of each respective institution.
"It's an honor anytime you are recognized by your university," said Simmons. "I'm proud to be among other educators who make it a priority to teach students to appreciate differences beyond themselves.
"I look forward to continue incorporating coursework that deals with race and gender identity issues. This IHL recognition is a true honor."
Simmons, a native of Jackson, received her bachelor's degree in elementary education from Jackson State University and her master's and Ph.D. in educational psychology from Howard University.
Her doctoral thesis, "The Preparing Future Faculty Program: Examining Relationships and Regressions Among Professional Identity, Career Expectations and Teaching Efficacy," was awarded the 2011 Distinguished Dissertation Award by the Council of Historically Black Graduate Schools and UMI Proquest.
She enjoys being active with the annual student-led Delta Music Institute-sponsored hip-hop concert, serves as the co-chair of the Delta State Diversity Committee and is assisting with the upcoming Winning the Race Conference to be held on campus in March. Simmons also works with the American Association of University Women, which focuses on opportunities for teenage girls.
"I feel that it's important to incorporate discussion of diversity in coursework," added Simmons. "I encourage my students to think of ways to be inclusive of many different types of people."
The Mississippi Board of Trustees of State Institutions of Higher Learning governs the public universities in Mississippi, including Alcorn State University; Delta State University; Jackson State University; Mississippi State University including the Mississippi State University Division of Agriculture, Forestry and Veterinary Medicine; Mississippi University for Women; Mississippi Valley State University; the University of Mississippi including the University of Mississippi Medical Center; and the University of Southern Mississippi.