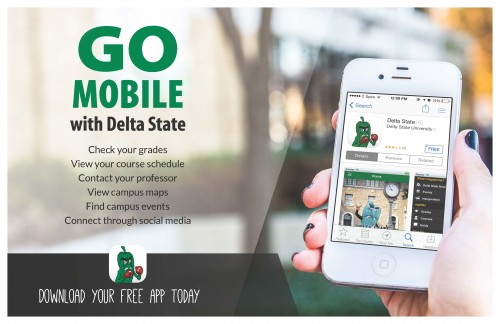 As technology and media outreach continues to develop across the world, Delta State has improved campus resources for digital media. An updated version of the mobile application, Okra Mobile, has been released with a new interface and improved functionality.
The Office of Information Technology designed the app in collaboration with the Office of Communications and Marketing to better meet students' needs.
"Our goal with the newly designed Okra Mobile application is to provide individuals with a feature-rich mobile application," said Dr. Edwin Craft, Chief Information Officer. "Students can gain additional information by logging in to access their grades, their course schedule and much more.
"The new application is available for both Android and iPhone users. It is built using the Ellucian Mobile platform which will allow the University to provide access to additional functionality in the future."
The new touch-to-dial directory and important numbers list makes it easier for contacts to be reached. Delta State's social media channels, news and events can be easily accessed through Okra Mobile, which is free for anyone to download.
Okra Mobile is one of several technology updates recently implemented at Delta State. Other projects to improve Delta State's online systems include: Canvas, a learning management system; WordPress, a website content management system; and Recruiter, a constituent management system soon to be implemented.
For more information on technology services or communication support offered to the Delta State community, please visit www.deltastate.edu or call 662-846-4760.