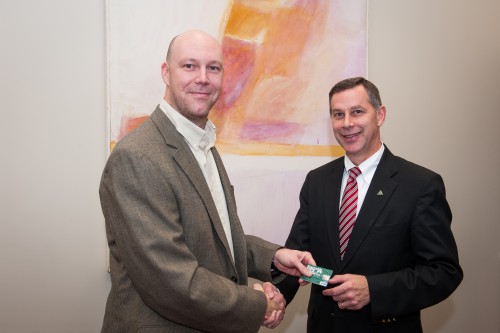 The Delta Regional Foundation, a charitable organization founded to support Delta State University, recently provided a $5,000 matching grant for monetary gifts made from Delta State faculty and staff.
The matching funds will be on a dollar-to-dollar basis, up to $500 per employee, and will be applied to first-time donors or increased levels of giving from current donors.
Several faculty and staff have already taken advantage of the program since the announcement on Friday. This opportunity is available until the $5,000 mark is reached.
Chief Development Officer of the Delta State University Foundation Gary Bouse expressed, "The Delta State University Foundation is very appreciative of the support of the Delta Regional Foundation. The establishment of this matching grant program serves as motivation for our faculty and staff to increase their level of support to the university, and an opportunity to double the impact of their giving to their areas of personal interest."
Grants from the Delta Regional Foundation support such university priorities as scholarships for deserving students, faculty development and academic enrichment. Employees participating in the matching grant program have the option to designate their gifts to the Delta State University Annual Fund or to one of over 400 funds at the Foundation.
HPER department chair Tim Colbert said he was thrilled to take part in the opportunity.
"We're using our Athletic Training Education Foundation account to help send our athletic training students to a conference in February," said Colbert. "It will make a big difference to have matching funds on top of what we can give already."
The board members of the Delta Regional Foundation include Charlie McGuffee, James Donald Cooper and Woodie Bounds. All three are alumni of Delta State University.
"Charlie and I have been lifelong friends," said Cooper. "I finished Drew High School in 1959 and he finished in 1960. Both of us enrolled at Delta State and our close friendship continued through Delta State College."
 "James Donald and I had a great experience as students at Delta State," said McGuffee. "Several years ago we decided to establish a charitable foundation as a way to financially support Delta State and that is the reason the Delta Regional Foundation was created."
This grant follows a similar grant that was established and successfully met by retired faculty and staff.
For more information about the Foundation or the matching grant, contact Gary Bouse at 662-846-4709 or gbouse@deltastate.edu or visit www.deltastategiving.org/giving/waystogive/giftmatchingprograms.