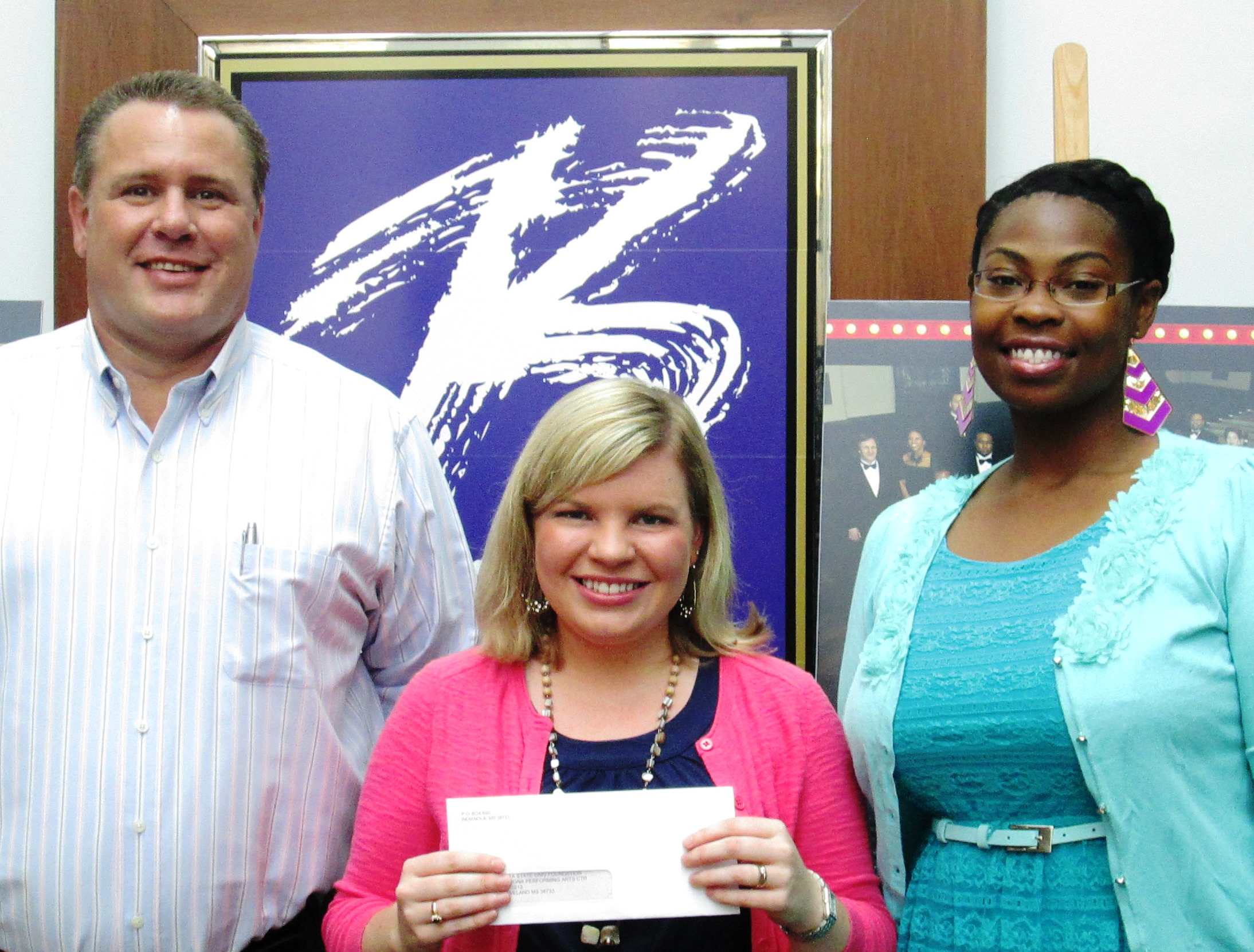 Double Quick, Inc. and the Bologna Performing Arts Center (BPAC) are excited to announce a brand new initiative, Arts Education Fueled by Double Quick, which will allow 1,000 students in Bolivar, Leflore, Sunflower, and Washington Counties to experience the performing arts at a reduced cost. Double Quick has generously contributed $5,000 toward the distribution of 1,000 discount tickets for area students to attend the BPAC's School-Time Matinee Series. Both Double Quick and the BPAC are thrilled that this substantial donation will provide exceptional opportunities for local students to experience the performing arts in a world-class facility with the Nation's best professional ensembles.
Double Quick representatives Damon Cranford and Curlina Williams visited the BPAC on Tuesday, September 3rd to present a check to Whitney Cummins, BPAC Arts Education Coordinator. "We are very happy that Double Quick, Inc. has chosen to partner with the Bologna in an effort to provide affordable, high-quality performing arts experiences for our local youth" said Cummins. "By offering a large quantity of tickets to several area counties at a discounted rate, we are able to reach students that may otherwise be unable to attend these performances."
Damon Cranford, Director of Marketing for Double Quick, Inc., said "We are extremely pleased that, through our Arts Education Fueled by Double Quick initiative, we are able to partner with the BPAC and make first class performances of the arts readily available to school children in the region. We look forward to a great season of performances that will further enrich the Arts Education experiences provided in the Delta."
Curlina Williams, Marketing Manager, also spoke on behalf of Double Quick: "We believe exposing children to the arts early in life creates tremendous value. Opportunities to gain an appreciation for the arts encourages exploration, self- expression, logical thinking, imagination, creativity, and self-esteem. Early arts experiences promote open thinking, tolerance of others, appreciation of differences, and the courage to take risks. These are just a few of the many reasons we are so excited to partner with BPAC on an education program that no doubt will be a world class experience for our youth."
The Bologna Performing Arts Center is offering five School-Time Matinees this season. The first matinee, "Stuart Little", is on Wednesday, October 9, followed closely by "MatheMagic!" on Wednesday, October 30. The Bologna is also offering a matinee to ring in the holiday season. "June B. in Jingle Bells, Batman Smells" will be performed on Wednesday, November 20. Next year, the BPAC is bringing "Five Little Monkeys" on Friday, January 31, and "Black Violin" on Tuesday, March 4, 2014. All performances offer 9:30 and 11:30 a.m. showings. Please visit www.bolognapac.com/education for more information about the School-Time Matinee Series. For more information about Arts Education Fueled by Double Quick, please call Whitney Cummins at 662-846-4844.