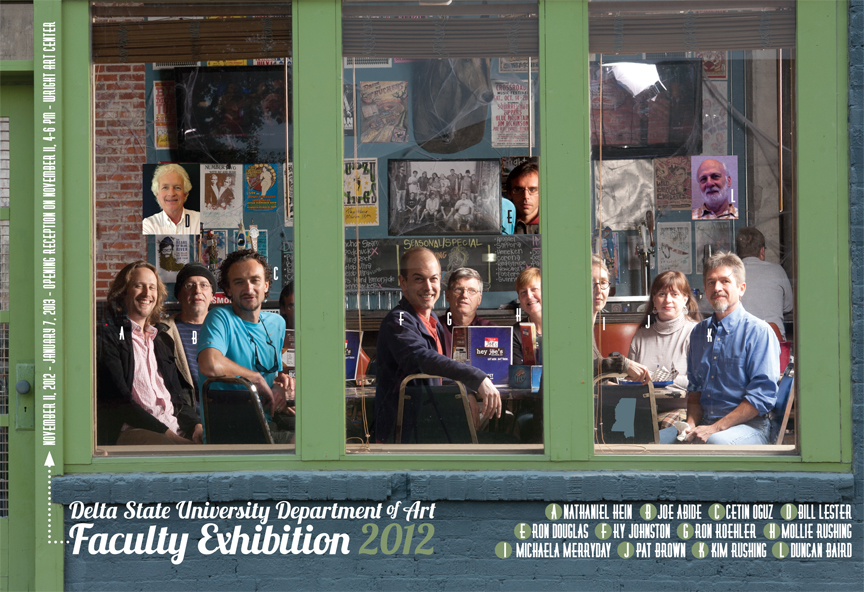 The Delta State University art faculty will present their latest work created during the past year in the annual faculty art exhibition to be held in the Wright Art Center Gallery on campus. Opening with a public reception on Sunday, November 11, from 4 – 6 p.m., the show will remain in the gallery through January 7, 2013.
As in years past, the art faculty—Ron Koehler, Michaela Merryday, Joe Abide, Nathaniel Hein, Cetin Oguz, Mollie Rushing, Kim Rushing, Ky Johnston, Bill Lester, Duncan Baird, Ron Douglas and Pat Brown—working in their respective media and forms and concepts, will show the diversity for which they have become known. Sculpture, ceramics, mixed media, graphic design, painting and drawing, film and photography, fiber in traditional and experimental approaches will be evident in the exhibition. Speaking of his paintings, Duncan Baird states that he "continues to explore circular forms, now in terms of color." Ron Koehler will show the standing male and female human figures created of wood. Merryday has been inspired by minimalist design and the textures of abandoned industrial structures, translating these forms into felted objects from undyed fleece and reclaimed fibers.
The public is cordially invited to the opening reception and to view the art of all faculty members throughout the exhibition period. Gallery hours are
8 a.m. – 8:30 p.m. Monday through Thursday and 8 a.m. – 3:30 p.m. on Friday. The gallery is closed on weekends and interims. Please check viewing availability during the holidays or to request more information, call the DSU Wright Art Center at 662-846-4720.