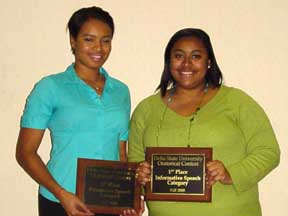 The winners of the Delta State University Fall 2008 Oratorical Contest were April Mondy (left), a freshman computer information systems major of Helena, Ark., and Brianna McBeath, a freshman psychology major of Noxapater.
Mondy's winning speech in the persuasive category was entitled "Universal Healthcare," and McBeath's 1st place speech, "Orphanages in China," won for the informative category.
The 1st Place winners received a $150 leadership scholarship from Dr. Wayne Blansett and the Delta State Division of Student Affairs. Monday and McBeath were also presented a plaque.
The Oratorical Contest was sponsored by the Communication Studies and Theatre Arts Program, Division of Languages and Literature. The event was held Dec. 3, on campus in the Jacob Conference Center in Ewing Hall.