Delta States Delta Center arranges interviews and locations for documentary film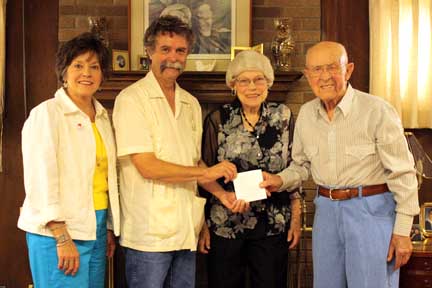 From left, Lee Aylward and Dr. Luther Brown of the Delta State Delta Center for Culture and Learning present Alice Kathryn and Ellis Smith a copy of the British TV program titled "Rivers and Life: Mississippi."
The hour long film about the Mississippi River features the Smiths, who both remember the great flood of 1927. Ellis Smith was a seventeen year old rescue boat captain who first brought in flood survivors and later brought in the bodies of the dead.
The Smiths were filmed at the site of the levee break in Scott, Mississippi by the British TV company that produced the documentary almost exactly a year ago. They have lived most of their lives in Greenwood.
The show will air in Great Britain next week.
The DSU Delta Center for Culture and Learning helped arrange interviews and site locations for the film.
For more information about the Delta Center, call (662) 846-4311.