Winter & Holiday Astronomy: Featuring Black Hole First Picture
December 8 @ 6:30 pm

-

7:30 pm

$5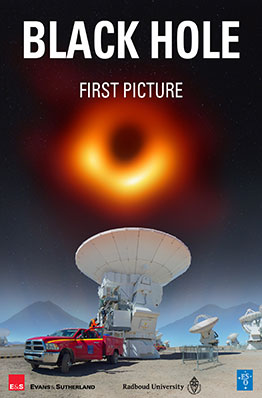 Join us as we talk a look at the upcoming winter skies, highlight some Christmas-themed nebulae, learn about the science behind the 'Christmas Star', and commemorate the two-year anniversary of the Webb Space Telescope's launch. Following the live show, we'll watch the planetarium film 'Black Hole First Picture'.
Black Hole First Picture: This film documents the incredible work of astronomers along their journey to create the very first picture of a black hole with the Event Horizon Telescope. The Event Horizon Telescope consists of a network of 8 Radio telescopes at 6 remote locations in the world ranging from Europe, North and South America, Hawaii to Antarctica. For years, the Event Horizon Telescope has been staring into the hearts of the Milky Way and the galaxy Messier 87, trying to obtain a picture of the shadow of Sagittarius A*, our galaxy's central supermassive black hole and the black hole M87*. This film incorporates scientifically correct visualizations of accreting black holes performed with state-of-the-art computer codes run on the most powerful supercomputers. These state-of-the-art simulations enable the most scientifically accurate black hole movie yet.
Ticket Pricing
Adults: $5.00
Children: $3.00 (under the age of 12 who require a seat)
Okra Card: $3.00 (Students, faculty and staff with valid DSU ID)
Tickets sold at the door. Cash or check only. Make check payable to Delta State University.
No admittance will be available after the show's scheduled start time.