Tales of a Time Traveler & Your Zodiac Sign
November 27 @ 6:30 pm

-

7:30 pm

$5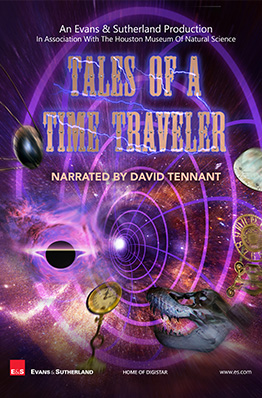 Throughout history, humans have used the sky to keep track of time. Join us as we discuss the constellations of the zodiac – some of the oldest constellations in recorded history. You'll also discover your true zodiac sign…it might be different than you think! Following the live show, we'll watch the planetarium film 'Tales of a Time Traveler'.
Tales of a Time Traveler: Time travel like never imagined! Explore ancient civilizations. Witness the birth of the universe. Journey to the edge of a black hole. In Tales of a Time Traveler, you will discover that time is not so easily defined. Time is illusive, impossible to hold. It can't be owned. It can't be stopped. Time travel surrounds you – from the biological clock in your brain and the changing shadows on a sundial, to the history of life on Earth. Then the story expands to the lives of stars, the time scale of the Big Bang, and the distortion of time by gravity. Narrated by David Tennant of Doctor Who fame.
Ticket Pricing
Adults: $5.00
Children: $3.00 (under the age of 12 who require a seat)
Okra Card: $3.00 (Students, faculty and staff with valid DSU ID)
Tickets sold at the door. Cash or check only. Make check payable to Delta State University.
No admittance will be available after the show's scheduled start time.