Edge of Darkness & Autumn Skies
September 30, 2022 @ 6:30 pm

-

7:30 pm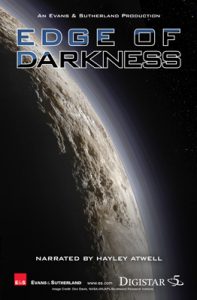 This event will include a double feature: the 'Edge of Darkness' planetarium show followed by 'Autumn Skies', a live discussion about what is visible in the sky this time of the year.
Edge of Darkness: This film features amazing scenes of places never before seen gathered by key space missions that culminated with groundbreaking discoveries. It features a spectacular flight though the great cliffs on comet 67P, a close look at the fascinating bright "lights" on Ceres, and the first ever close ups of dwarf binary planet Pluto/Charon and its moons. Narrated by Hayley Atwell, Agent Carter, from the Marvel Cinematic Universe and the ABC television series.
Ticket Price
Adults: $5.00
Children: $3.00 (under the age of 12 who require a seat)
Okra Card: $3.00 (Students, faculty and staff with valid DSU ID)
Tickets sold at the door. Cash or check only. Make check payable to Delta State University
If you would like to reserve a seat in advance, please send us a message through our 'Contact Us' form. No admittance will be available after the show's scheduled start time.