Green Week
April 21, 2014 @ 8:00 am

-

April 25, 2014 @ 5:00 pm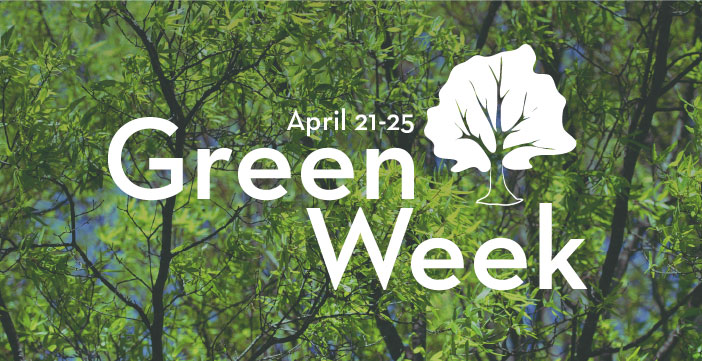 Support all week!
Wear green everyday .
Save energy by using the stairs instead of the elevator.
Ride a bike, walk or carpool to campus each day.
Print only when necessary.
Turn off computers at the end of each day.
Use only re-usable containers for beverages and lunch.
Spread the word! Mystery walkers may give you a prize.
Tuesday
7:30 – 9 a.m. | Walter Sillers Coliseum, Library Rear Parking Lot, Facility Plant
Air For Spare
Air up your tires for better fuel mileage and reduced oil consumption
Reuse to Reduce
Donate gently used items to St. Gabriel's
Cell Support
Drop off old cell phones to support an Earth Day fund for next year
11 a.m. | Caylor 205
Environmental Celebration
Join us to listen to experts speak about celebrating our Earth and learn more about the community garden
Wednesday
7:30 – 9 a.m. | Walter Sillers Coliseum, Library Rear Parking Lot, Facility Plant
Air For Spare
Air up your tires for better fuel mileage and reduced oil consumption
Extended hours at facility plant (7:30 a.m. – 3 p.m.)
Reuse to Reduce
Donate gently used items to St. Gabriel's
Cell Support
Drop off old cell phones to support an Earth Day fund for next year
11 a.m. – 1 p.m. | Roberts LaForge Memorial Library
Walk to Lunch
Take a stroll down Court Street for a discounted lunch to save fuel and enjoy the air
Thursday
7:30 – 9 a.m. | Walter Sillers Coliseum, Library Rear Parking Lot, Facility Plant
Air For Spare
Air up your tires for better fuel mileage and reduced oil consumption
Reuse to Reduce
Donate gently used items to St. Gabriel's
Cell Support
Drop off old cell phones to support an Earth Day fund for next year
Friday
11:30 a.m. | Faculty/Staff Apartments
Arbor Day Dedication
Celebrate a tree donation from Delta State retirees at the employee apartments