40th Annual F.E. Woodall Spring Conference for the Helping Professions Apr. 1, 2022
40th Annual F.E. Woodall Spring Conference for the Helping Professions Apr. 1, 2022
About the Woodall Conference
The annual F. E. Woodall Conference, hosted by Delta State University's Division of Counselor Education & Psychology, serves both students and professionals by providing essential information, support, and networking opportunities to helping professionals in the region. The conference offers professionals in a variety of helping fields the opportunity to attend interesting and informative workshops at a nominal cost. The conference began in 1981, under the direction of Dr. Fred E. Woodall, a previous and highly admired professor.
Keynote speakers have included seven American Counseling Association Presidents, an international innovator/inventor, and other nationally recognized leaders in the field of counseling. Students and professionals spend the day selecting from over 30 peer-reviewed, continuing education content sessions. Presenters are often faculty and students from Delta State and other universities as well as leading professionals in the field. Advanced students have the opportunity to present with their faculty members.
Our Delta Sigma Upsilon Honor Society, Chi Sigma Iota, will benefit from the funding of the conference and will be able to do service for the community, attend national conferences, and attend other continuing education opportunities!
Virtual/In-Person Conference Details
The Woodall Conference will be offered both in person and virtually. If you are attending in person, the schedule will help you choose your session, time, and classroom. If you are attending virtually, we have a set agenda for the day. Anyone can attend the virtual session as we will host the virtual sessions on campus and utilize zoom for those who cannot attend in person. The Schedule at a Glance and the Set Virtual Agenda Zoom Link will be emailed to registrants prior to the conference. 
Registration will take place on this site prior to the conference. Further information below. If you are a presenter, a DSU Site Supervisor, or a DSU student, please wait to register until you receive a code via email.
If you would like to use a check, money order, PO, or cash for pre-registration, please contact Chaley Brunetti at cbrunetti@deltastate.edu.
Make checks out to DSU.
Mailing Address: DSU-Counselor Ed, Attn: Chaley B Brunetti, DSU Box 3142, 1003 W. Sunflower Ave., Cleveland, MS 38733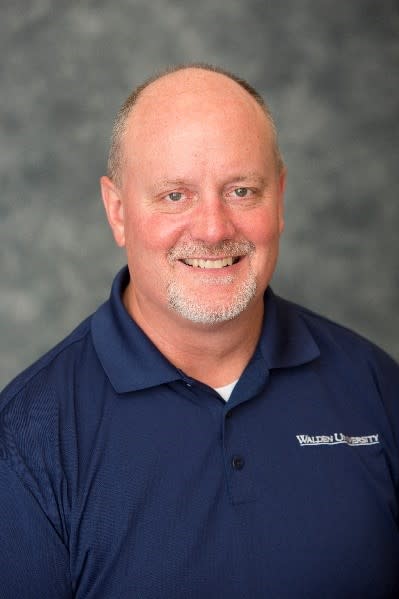 Dr. Matthew Buckley is a doctoral level licensed professional counselor (LPC) in Mississippi and a licensed clinical mental health counselor (LMHC) in Utah. He has been a practicing counselor since 1993 in Idaho, Mississippi, Arkansas and Utah and specializes in clinical mental health, marriage and family, child and adolescent, and group counseling. He is also a National Certified Counselor (NCC), an Approved Clinical Supervisor (ACS), and a Board Certified Telemental Health Counselor (BC-TMHC). Currently Dr. Buckley works as a counselor educator (Senior Core faculty) at Walden University and was the former program director for the M.S. in Mental Health Counseling program (2008 – 2013). He also served as Division Chair and an Associate Professor of Counselor Education at Delta State University from 1997 – 2008. He is an active member of the American Counseling Association (ACA), Association for Specialists in Group Work (ASGW), and the International Association of Marriage and Family Counselors (IAMFC), and Association of Counselor Educators and Supervisors (ACES). He also chaired the Mississippi Board of Examiners for Licensed Professional Counselors from July, 2001 to June, 2004. He formerly served as an exam committee member (Subject Matter Expert) for the National Clinical Mental Health Counselor Exam (NCMHCE) for the National Board of Certified Counselors (NBCC). He also has extensive experience in work with The Council for Accreditation of Counseling and Related Educational Programs (CACREP) where he has served as a site team chair or member for accreditation visits for the past 20 years and has served on ad hoc committees for the development of training materials for the CACREP site visit process.
He is also a board approved clinical supervisor in Mississippi where he acts as a clinical supervisor for other professional counselors and counselors-in-training who seek licensure; the diversity of his professional practice includes counseling, consultation, supervision, and teaching.
8:30 – 9 AM | Zoom Room and Keynote Address preparation; can arrive early to test your technology
9 – 10:10 AM | Welcome by President LaForge and Matt Buckley, Keynote Address
10:20 – 11:20 AM | Breakout Sessions I
11:30 AM – 12:30 PM | Breakout Sessions II
12:35 – 1:35 PM | Lunch
1:40 – 2:40 PM | Breakout Sessions III
2:50 – 3:50 PM | Breakout Sessions IV
4 – 5 PM | Breakout Sessions V
2.00 Ethics
2.00 Supervision
1.00 Supervision (DSU CED Site Supervisors)
Agenda Key: Ethics & Supervision CEs = gold | No Social Word credit = *
Continuing Education Information
Licensed Professional Counselors (LPC) & Nationally Certified Counselors (NCC)
Delta State University Counselor Education department, event sponsor, is an NBCC-Approved Continuing Education Provider. DSU – Counselor Education is recognized by the National Board for Certified Counselors to offer continuing education for National Certified Counselors. We adhere to NBCC Continuing Education Guidelines, Provider #4306.
Social Work contact hours are in the review process by DSU Social Work Department. The Social Work Department of Delta State University, SWCU1202, is an approved provider for continuing education by the Mississippi Board of Examiners and Marriage & Family Therapists.

6 SW CEs offered
Attention: The state's additional fee of $25 for social work certificates is included in your registration fee.
School Counselors & Other School Helping Professionals interested in MDE/Education CEUs
DSU Continuing Education Department is an approved provided for MS Department of Education CEUs. MDE CEUs have been approved.

.6 MDE CEUs offered
Attention: An additional fee of $15 for school certificates is included in your registration fee.
CEU GOOGLE FORM
PLEASE FILL OUT AND SUBMIT THE FOLLOWING CEU FORM: https://forms.gle/CGoz29yapnagEgao9
*ALL attendees must complete this form and submit at the end of the day to be awarded credit for attending the conference*
Please contact your licensing board if you have questions about the type of continuing education offered. If you have any questions about about this conference, please email cbrunetti@deltastate.edu.
For those that would like to use a check, money order, PO, or cash for pre-registration, please contact Chaley Brunetti at cbrunetti@deltastate.edu. These options are available also! To ensure receipt of check and issuance of an online code to register, mail checks by March 10th.
Make checks out to: DSU – CSI.
Mailing Address: DSU-Counselor Ed, Attn: Chaley Brunetti, DSU Box 3142, 1003 W. Sunflower Ave., Cleveland, MS 38733