Flight Operations majors will use the online scheduler, Flight Schedule Pro, to: schedule flight lessons, review lesson objectives, Flight Operations Manual, the current student syllabus, and upcoming events. Students should log in regularly to review their status and flight account balance before each and every flight. Flight Schedule Pro is used in conjunction with the student okramail and they are both the central means of communication on each lesson at the airport. Flight Schedule Pro is also available in the app store.
Flight Team
Delta State University's "Flying Okra" makes a big impression. The flight team's hard work and dedication has been recognized a national level to some of the most important names in the industry.
If you are interested in being a part of flight team, contact Director of Flight Operations, Bradly MacNealy at bmacnealy@deltastate.edu.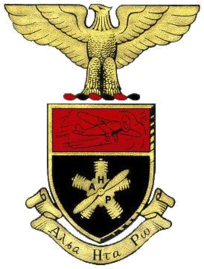 Alpha Eta Rho is the oldest professional aviation fraternity in history. Since 1929, AHP has had granted charters to more than 140 chapters at the most prestigious aviation colleges and universities. Currently, Alpha Eta Rho recognizes over 60 active chapters in the United States and throughout the world. Membership in Alpha Eta Rho is open to all collegiate men and women who have a strong interest in, or who are currently seeking careers in any field within the aviation and aerospace industries. As a professional fraternity, AHP strives to maintain and promote the highest moral standards and steadfastly affirms its membership to all, not dependent upon race, religion, nationality, or gender.
The National Intercollegiate Flying Association was formed for the purposes of developing and advancing aviation education; to promote, encourage and foster safety in aviation; to promote and foster communications and cooperation between aviation students, educators, educational institutions and the aviation industry; and to provide an arena for collegiate aviation competition.
Women in Aviation International (WAI) is a nonprofit organization dedicated to the encouragement and advancement of women in all aviation career fields and interests. Our diverse membership includes astronauts, corporate and airline pilots, maintenance technicians, engineers, air traffic controllers, business owners, educators, journalists, flight attendants, high school and university students, air show performers, airport managers, and many others.
At WAI, we strive to encourage, empower, and educate all those whose interests, lives, and work involve aviation and aerospace without regard to race, ethnicity, gender identity, age, sexual orientation, physical or mental abilities, or point of view. We know with certainty that our shared passion for aviation transcends any differences among us.
Contact: Rebecca McCracking if interested – rmccracking@deltastate.edu
We are currently awaiting responses from potential aviation partners for this upcoming school year.