Beta Beta Beta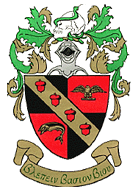 About
Beta Beta Beta (Tri-Beta) is an honor society for students of the biological sciences. Since its founding in 1922, more than 175,000 persons have been accepted into lifetime membership, and more than 430 chapters have been established. The society publishes a journal, BIOS, with articles of interest to biologists and society news. For more information on the local chapter, talk to one of the current officers or contact Dr. Eric Blackwell. For general information you can also visit the national Tri-Beta web site.
Membership requirements
Membership in Tri-Beta is offered to biology students recognized to have superior scholastic achievement. To be eligible for membership, you must have:
completed at least 3 semesters of full-time course work at an accredited college or
university, including at least 1 semester at Delta State.
completed at least three courses in biology with average grades of B or above
The minimum of 3 semesters must have been completed at the time of application. That is, you
cannot be accepted for membership while still enrolled in the 3rd semester.
How to apply for membership
Contact Dr. Blackwell [eblackwell@deltastate.edu] for information on the application procedure.